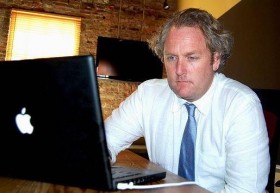 Andrew Breitbart's new political blog, Big Government, launched with a splash today, thanks to an investigative piece on ACORN. Could Breitbart, who worked as a researcher for Arianna Huffington back in the day, be following in her footsteps as an opinion blog rainmaker with a powerful one-stop shop?
Big Government got off to a big start today. Its main story was an undercover video taken by filmmaker James O'Keefe of what purported to be an ACORN worker advising a fake 'pimp' and his 'prostitute' how to avoid taxes and prosecution. ACORN, for its part, has condemned the video as "gotcha journalism" and demanded to see the full tape for proof that it wasn't misleadingly edited. As of 1:50 pm, there have been 3 posts about ACORN, one introductory post, and one post about health care — a little slow, but the ACORN bit is probably enough to give the site a good first day.
And boy, does Breitbart know how to promote: he went on Fox News this morning to discuss his "exclusive" (and happened to mention his website a decent handful of times during the interview), and he got his video placed as the top story on Foxnews.com, ahead of arguably bigger stories like Joe Wilson's outburst during Obama's healthcare speech last night.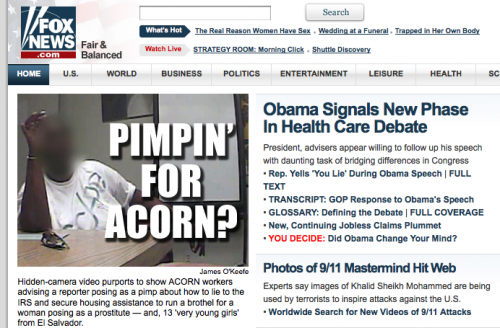 Having just launched, the site is in an embryonic RSS stage, but the similarity of its layout to Big Hollywood, another Breitbart site which has drawn hundreds of contributors into the relatively small niche of entertainment coverage with a conservative slant, bespeaks its ambition to become a leading political group blog.
Breitbart has proven himself much more web-savvy than his sensei/former boss Matt Drudge, whose Web 0.5 strategy of plastering a bunch of links on a white page still draws respectable traffic (1.1 million visitors a day, according to the New York Observer), and drives it to Breitbart's sites. Breitbart's expanding family of sites, on the other hand, includes straightforward link aggregator Breitbart.com, which is more navigable than Drudge Report thanks to tabs and search functions; Breitbart.tv, a curated set of embedded videos, with comments; Big Hollywood, a conservative groupblog on the entertainment industry which sounds based on that description like it should be an unmitigated disaster, but which somehow draws 700,000 unique visitors per month, according to Breitbart's advertising kit. The whole family draws 5.1 million uniques a month.
According to a recent Sitemeter analysis by Bloggasm, conservative group blog Hot Air currently draws 808,777 uniques a day. It's probably a long way off, but if a fully-realized Big Government even approaches numbers like that, Breitbart will have a vertically-integrated web empire on his hands.
Breitbart's claim that the site will not be "a narrow Republican/conservative idea factory" seems dubious, especially because in the next breath he says in conservative code-language that "the advocates of liberty and free markets are not as narrow-thinking as the traditional media would have you believe." Remember when HuffPo had the likes of Greg Gutfeld as columnists? Yeah, so much for that.
The political blogosphere thrives on brutal polarization, and Breitbart's past successes show that he's well aware of this.  The Atlantic's Mark Bowden recently wrote a great article about the negative effects that the partisan web has on news coverage that's well worth a read.
But if polarization is bad for the body politic, it's good for making bank. According to his ad kit, Breitbart charges a Perez Hilton-like $25,000 a day to place the biggest type of roadblock banner across his current sites. Big Government could mean bigger business.
image (top) via Just Another Blog (From LA)
---
Here's a longish video of Breitbart on Fox News this morning — the ACORN video takes up most of the first half, and Breitbart cuts in at about the 5:20 mark.

---
Have a tip we should know? tips@mediaite.com