Fox & Friends Trolls NYT Hard For Calling Them 'The Most Powerful TV Show in America'
Fox & Friends clearly enjoys all the attention they're getting as the conventional wisdom grows about how much President Trump watches their show.
Last week, New York Times TV critic James Poniewozik wrote in depth about how the show functions as "an interactive magic mirror for Donald J. Trump," with this quote in particular sticking out:
"It is the most powerful TV show in America."
Steve Doocy kicked things off today by not-so-subtly revealing that Fox News took out an ad in the paper itself using that line to promote the show, and they referenced it a few more times throughout: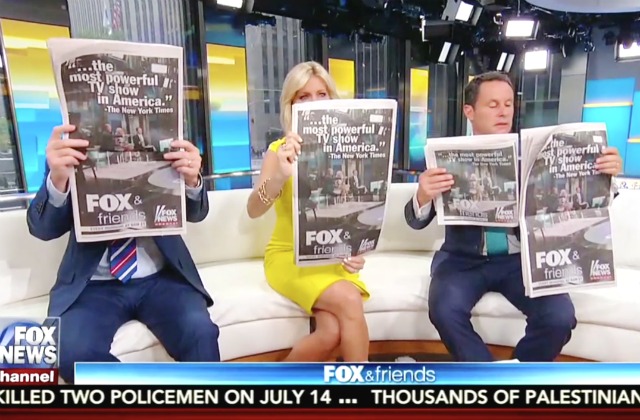 As we reported earlier, President Trump saw this too and took a shot at the paper he gave an interview to just last week.
And after the show, Fox & Friends tweeted out this photo:
Thank you to all our viewers for making us "the most powerful TV show in America!" #betterwithfriends pic.twitter.com/tc6WZealkr

— FOX & friends (@foxandfriends) July 27, 2017
(Mind you, this comes days after the Times asked Fox & Friends to apologize for a "malicious and inaccurate" report.)
Now, as Fox & Friends is almost certainly aware, the piece isn't as complimentary as that one line might suggest:
President Trump is the show's subject, its programmer, its publicist and its virtual fourth host. The stars offer him flattery, encouragement and advice. When he tweets, his words and image appear on a giant video wall. It's the illusion of children's TV — that your favorite show is as aware of you as you are of it — except that for Mr. Trump, it's real.
You can watch clips above, via Fox News.
[image via screengrab]
— —
Follow Josh Feldman on Twitter: @feldmaniac
Have a tip we should know? tips@mediaite.com
Josh Feldman - Senior Editor