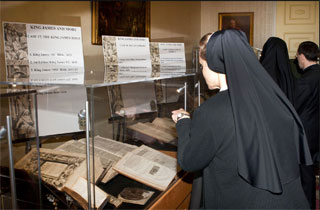 Fresh off their Supreme Court victory, the owners of Hobby Lobby are now looking to increase their presence in D.C. by building an enormous Bible museum near the National Mall.
Back in 2012, the Greens, the evangelical Christian family who owns Hobby Lobby and were behind the successful challenge of Obamacare's contraceptive mandate, purchased a 400,000-square-foot space near the National Mall with the hopes of putting a Bible museum in the space. Today, the New York Times reports that the unnamed museum will open in 2017, and will feature a wide variety of historical artifacts, such as ancient Torahs and Bibles. Most of the artifacts, if not all of them, will come from the Greens' personal collection, worth nearly $30 million.
The Greens insist that the museum will only be for scholastic purposes, but what's the likelihood this is actually a massive effort for evangelizing? According to the Times, quoting the family itself, it's possible:
Steve Green, president of Hobby Lobby and the son of its founder, has referred to the Bible as "a reliable historical document," and, as part of the museum project, he is developing a curriculum to "reintroduce this book to this nation."

"This nation is in danger because of its ignorance of what God has taught," Mr. Green, who declined to be interviewed, said in a speech last year in New York. "There are lessons from the past that we can learn from, the dangers of ignorance of this book. We need to know it. If we don't know it, our future is going to be very scary."
Here's what his traveling museum currently looks like:
Specifics of the exhibits have not been released, but the traveling show of Mr. Green's collection offers some clues. It included theatrical experiences such as hologram recreations of biblical scenes, re-enactments of fourth-century monks transcribing the Bible by candlelight in St. Jerome's Cave and a multimedia "Noah's ark experience."
The museum still needs approval from the District of Columbia's city council, who indicated to the Times that they would be opposed to funding a museum that attempted to convert people.
[NYT]
[Image via DeMoss/The Green Collection]
—
>> Follow Tina Nguyen (@Tina_Nguyen) on Twitter
Have a tip we should know? tips@mediaite.com