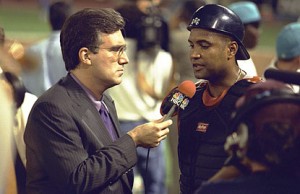 When we hear talk about the mainstream media spending more time fact-checking, we don't usually think of baseball. But that's exactly what it meant for Keith Olbermann, who chimed in about a front-page New York Times article from Friday's paper about a newly surfaced piece of home video showing Babe Ruth at bat and striking out while Lou Gehrig waits on deck at Yankees Stadium.
But with this sort of vintage footage baseball wonks, like Olbermann, have to use every piece of evidence available if they want to nail down all the details of the film — the date, location, lineup, score, etc.
The first Times' article — which is more concerned with the science of pinpointing historical footage than the details of the new Ruth video in quetsion — mentions that the film was probably shot in 1928 and doesn't identify the opposing team.
"Uh, fellas, I'm standin' right here. The acknowledged ace amateur unidentifiable photo identifier, certified by the Hall of Fame for crying out loud!" wrote Olbermann on his Baseball Nerd blog, expressing some playful chagrin that the Times didn't contact him to help flush out the details of the footage.
Now that Olbermann has given the footage the full treatment with his basbeball archaelogist's eye, producing two posts on the subject for his blog, the Times has run a follow-up to the first article with the findings of Olbermann and others' research:
But none gave it the full scrub like Keith Olbermann, the MSNBC broadcaster and baseball blogger, and Tom Shieber, a senior curator at the National Baseball Hall of Fame and Museum in Cooperstown, N.Y.

The two, working separately, came up with the same conclusion. They believe that the game in question took place on Sunday, Sept. 9, 1928. Probably. Nick Trotta, the manager of library licensing for Major League Baseball Productions, said archivists would not be able to devote their attention to the clip until after the World Series but did not dismiss Olbermann and Shieber…

Olbermann and Shieber agree that one quick glance reveals that the game was not opening day, the World Series (where the Yankees beat the Cardinals in 1928) or July 4: That is because there is no bunting. The Yankees loved bunting, and still do, festooning the Stadium for all big games.
Bunting like decoration-bunting, not like baseball-bunting. Looks like Olbermann knows plenty about both.
Read: Ruth Video Is Under Further Review [NYT]
Babe Ruth Like You've Never Seen Him Before [NYT]
Have a tip we should know? tips@mediaite.com