Libya To Foreign Journalists: What Do Ya Mean We're Keeping You From Reporting?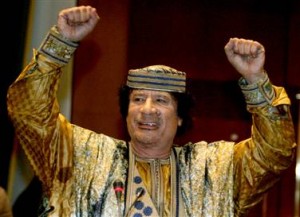 A common thread woven throughout coverage of Egypt's revolution was the manner in which ousted leader Hosni Mubarak's government attempted to control news flowing out of the country, and it seems that's also the case in Libya. There, however, Muammar al-Gaddafi's government (despite the Libyan leader's continued insistence that the Libyan people essentially govern themselves) takes a slightly different tactic: Smiling and shaking one's head while gently wondering how people could be complaining about something so obviously silly as censorship.
The Guardian reports that, during one of Gaddafi's press conferences at the Rixos Hotel in Tripoli, a letter was circulated among journalists, essentially telling them that their complaints are all for nought:
No restrictions are imposed on the foreign media. Media correspondents work freely in Libya, and all necessary facilities are provided for them. They have freedom of movement, except in areas controlled by al-Qaida terrorists.
See? The blindfold only serves to heighten your senses. You're welcome!
And this isn't the first time Libya has shifted blame onto terrorist activity. In February, Gaddafi blamed Osama bin Laden for the unrest in his country. Then, the Libyan government announced that foreign journalists entering the country illegally would be regarded as "terrorist collaborators."
The Guardian offers first-hand experience undermining the government's insistence that reporters are free to fly about the country on magical, rainbow-winged unicorns:
In recent days the Guardian has been held twice for testing this promise, once for six and a half hours outside the town of Zawiyah – which included a visit to an intelligence barracks. During that episode, journalists were told they would be blindfolded and taken to an undisclosed location.

On the second occasion, the Guardian reporter was held for three hours by paratroopers at a checkpoint with tree other British journalists, among 24 who were detained across Tripoli on a single day.

Other nationalities – all with permission to work as reporters in the country – have been subjected to far harsher treatment: some have been held overnight, physically assaulted by militia or threatened with loaded weapons.
Furthermore, Gaddafi continues to spew rhetoric against foreigners, blaming "a small group from Afghanistan, Algeria, Egypt and Palestine" for the unrest among Libyans and warning that his country will "fight back" if a no-fly zone is imposed over Libya.
h/t The Guardian
Have a tip we should know? tips@mediaite.com