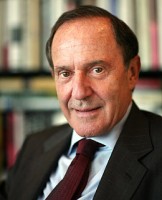 High-rolling real estate player and New York Daily News publisher Mortimer B. Zuckerman may have politics in his future, according to a New York Times report this weekend. Zuckerman sees the Senate seat held by Democrat Kirsten Gillibrand as "vulnerable," but might run as a Republican or independent — despite his known political leanings — to avoid having to pay for a primary campaign.
The Times article is based on the anonymous word of "two people told of the discussions," likely meaning Zuckerman's team or affiliated insiders, meant to get the press buzzing and political public talking in order to judge the initial response. According to the piece, "A Zuckerman spokesman, Ken Frydman, declined to address any discussions that Mr. Zuckerman might have had about a Senate run, or any plans to conduct a poll."
What the newspaper feature does, though, is introduce Zuckerman formally to a public that may know his name and affiliations on a superficial level. Now, they're privy to the surface level of his accomplishments, hopes and dreams:
Mr. Zuckerman, 72, has long sought a national platform. He has cut a wide swath through the media landscape, buying and selling magazines like The Atlantic and writing a regular column for U.S. News & World Report, which he owns.
Biographical information comes at no additional cost:
Mr. Zuckerman, a resident of the Upper East Side of Manhattan, was born in Quebec. He is now an American citizen.
And as a New York media kingpin, the Bloomberg comparison is automatic:
As a candidate, Mr. Zuckerman would be following the path of a close friend and fellow media executive, Mayor Michael R. Bloomberg, who switched his party affiliation from Democratic to Republican to run for office.
For more on the early rumblings of a Zuckerman run for Senate, read the rest here.
Have a tip we should know? tips@mediaite.com