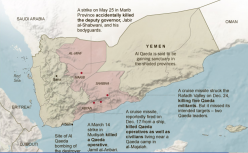 Today's New York Times dropped a massive piece on the United States' expanding "shadow wars" in nearly a dozen countries throughout the Middle East and North Africa — wars that have gone on largely unannounced and unnoticed by the American public.
The piece, penned by Scott Shane, Mark Mazzetti, and Robert F. Worth, and with reporting from Muhammad al-Ahmadi in Yemen, runs at just over 3,000 words and contains a wealth of reporting on America's escalating efforts against Al Qaeda in nearly a dozen countries throughout the region, focusing in particular on the American military campaign in Yemen which began last December.
In roughly a dozen countries — from the deserts of North Africa, to the mountains of Pakistan, to former Soviet republics crippled by ethnic and religious strife — the United States has significantly increased military and intelligence operations, pursuing the enemy using robotic drones and commando teams, paying contractors to spy and training local operatives to chase terrorists.

The White House has intensified the Central Intelligence Agency's drone missile campaign in Pakistan, approved raids against Qaeda operatives in Somalia and launched clandestine operations from Kenya. The administration has worked with European allies to dismantle terrorist groups in North Africa, efforts that include a recent French strike in Algeria. And the Pentagon tapped a network of private contractors to gather intelligence about things like militant hide-outs in Pakistan and the location of an American soldier currently in Taliban hands.

While the stealth war began in the Bush administration, it has expanded under President Obama, who rose to prominence in part for his early opposition to the invasion of Iraq. Virtually none of the newly aggressive steps undertaken by the United States government have been publicly acknowledged. In contrast with the troop buildup in Afghanistan, which came after months of robust debate, for example, the American military campaign in Yemen began without notice in December and has never been officially confirmed.
The full piece is a must-read. The Times interviewed White House officials, intelligence officials, and military officials to paint a picture of the US military operations in Yemen — and much of it has never been reported before.  The piece is also accompanied by a graphic highlighting where the US has quietly been escalating military and intelligence operations in recent months — including Somalia, Kenya, Morocco, Algeria, and Saudi Arabia.
The Times notes that this piece is the first of an ongoing series on the "Shadow Wars," indicating that more coverage is forthcoming. Between this and the Washington Post's recent "Top Secret America" project, there's certainly been a recent increase in coverage of America's defense operations — but the results coming out of all of it are somewhat startling. The Post project reveals the sheer size and magnitude of the US' national security operations at home, while the NYT project sheds light on our expanding counterterrorism efforts abroad — both of which have enormous consequences but have largely been hidden from the public view. Both projects are impressive works of investigative reporting; but at a time when public discourse is centered around the Tea Party, the "Ground Zero Mosque," and similar hot-button issues at home, I have to wonder to what extent this kind of news will impact our political dialogue.
Have a tip we should know? tips@mediaite.com