It's hard not to love Neil Patrick Harris. And it's nice that he and his partner David Burtka are going to be daddies to twins. But if you want the media to respect your privacy, maybe Twitter isn't the best place to announce the news.
It appears Harris was forced to to tweet the news after E! Online broke the story Saturday morning that the couple were expecting twins being carried by a surrogate and that they were already planning a baby shower for the October arrival. Instead of responding via a press spokesman, Harris took control of the story by using one of he favorite media, Twitter: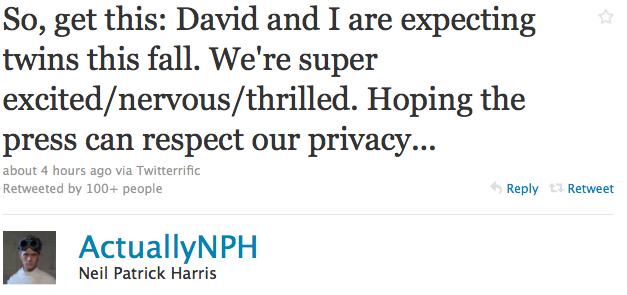 It's a dilemma for celebrities that they have to issue press statements about life events and Harris has always been praised for not "going Hollywood" when he finally announced he was gay without much fanfare. But tweeting birth news seems to be the opposite of asking the press to give you privacy. It's a double-edged sword, of course, but the press is likely to give the couple some space not because he asked for it on Twitter but because of his reputation as a nice guy.
Harris' tweet went viral and became instant news, including on our sister site Gossip Cop.  He even got an acknowledgment tweet from fellow gay-dad-with-twins Ricky Martin.
The question is will the press really respect their privacy and how much can Harris control the media story?  People are going to have questions because of the novelty of both celebrity gays having kids and surrogacy generally.  The celebrity culture of having kids as publicity vehicle–I'm talking to you Madonna and Brangelina–means the celebrity press has grown accustomed to prying to the baby-making lives of well-known people.
Have a tip we should know? tips@mediaite.com