Pelosi Twerks, Zuckerberg Has Breasts in Breitbart's 'Edgy' Street Art Campaign
Remember what we said about conservatives liking the idea of seeing themselves depicted as cool for the first time ever in their lives when those posters of an inked-up Ted Cruz surfaced? Cruz himself kept the shelf life of the joke alive, albeit long past its expiration date, naturally. And now, with the launch of Breitbart California, they've returned to the well once again. To help promote the new California-focused vertical, the site tapped political artist, and seemingly unstable human, Sabo, the man behind the Cruz posters, to design a series of street-art style graphics, including one of a shirtless, skateboarding hipster Andrew Breitbart, who is still dead, shredding the Hollywood Hills. Another depicts Mark Zuckerberg with a pair of breasts, because sure whatever.
The artist explained on his Facebook page that he was surprised they actually ended up using the images. "I was shocked that they went with what I drew up because the posters are edgy as hell," he wrote. Not sure if depicting Nancy Pelosi as Miley Cyrus with her tongue out, bent over before a flexing Jerry Brown, is edgy, but it's definitely something.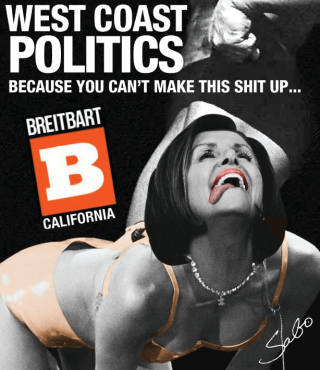 "One of the mean fears was that 'progressives' might hate us for the content of the posters….News flash people… they already hate us so fuck em!!" he wrote.
He's right about a few things there. He explains his mission, and his frustrations with being a lonely Republican in a sea of liberals in LA, on his website.
"My aim as an artist is to be as dirty, ground level, and mean as any Liberal artist out there, more so if I can. Use their tactics, their methods, appeal to their audience, the young, urban, street urchins with a message they never hear in a style they own."
While a lot of it is ham-handed, some of his work is fairly clever. Never thought I'd live to see an actually somewhat funny conservative.
Sabo's not the only one who wants to show that California isn't completely infested with liberal vermin. Yesterday Breitbart California described their mission as [who cares].
Okay, fine:
"For years, California has been written off by conservatives as too far past the point of return, but the truth is every single day there are stories worth telling about the successes of the conservative movement in California and the failures of the left-wing establishment," said Breitbart News Executive Chairman Stephen K. Bannon. "Breitbart California is about telling not just those stories but showcasing the impact and influence the Golden State has in our culture, technology, and economy. From the growing libertarian movement at the heart of Silicon Valley to a Republican win at City Hall in San Diego, there is a fundamental shift taking shape and Breitbart News will be here to chronicle it."
Finally, at long last, a brave voice willing to tell the stories of Silicon Valley's libertarians. Who said punk rock was dead?
[Correction: This article previously stated that the posters contained Joe Biden flexing his muscles. In fact, it was Governor Jerry Brown who stood over a twerking Nancy Pelosi. We apologize for this grave error.]
— —
>> Luke O'Neil is a journalist and blogger in Boston. Follow him on Twitter (@lukeoneil47).
Have a tip we should know? tips@mediaite.com