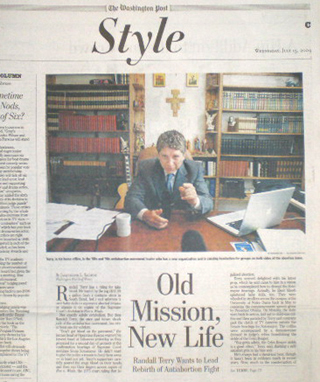 It came to blows in the Washington Post offices late last week when feature editor Henry Allen and writer Manuel Roig-Franzia had it out over the quality of a story, all within view of Post executive editor Marcus Brauchli. Really, gentlemen — in front of the boss?
Washingtonian is reporting that Allen, a newspaper stalwart in his late 60s, punched Roig-Franzia after a disagreement over a collaborative story Roig-Franzia had been working on with fellow Style-section writer Monica Hesse. Their editor thought it was garbage, unworthy of the Style section:
Allen took a look and didn't like. He started ranting about the number of mistakes he had found.

Hesse at one point asked him to send the copy back to her. She got a bit teary at the verbal beatdown.

Allen, according to sources, said: "This is total crap. It's the second worst story I have seen in Style in 43 years."

Roig-Franzia then wandered into the newsroom. A veteran foreign correspondent, he has been turning out political features for Style. He heard Allen's rant and stopped by his desk.

"Oh, Henry," he supposedly said, "don't be such a cocks—–."
That set off the former Marine editor:
Allen lunged at Roig-Franzia, threw him to the newsroom floor, and started throwing punches. Roig-Franzia tried to fend him off.
Allegedly, the old-timey Allen was not thrilled with the "charticle" Roig-Franzia and Hesse had been working on, favoring the days when the paper allowed a writer to take "a hundred inches on the wonder of plastic lawn furniture or the true meaning of the Vietnam War Memorial."
It seems like we're seeing this story play out over and over again: newspapers are changing. And apparently, in order to save it, some will go down swinging.
Check out a full recounting of the story here.
Have a tip we should know? tips@mediaite.com