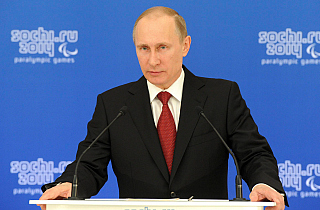 Good morning, everyone! As of, oh, right now, Vladimir Putin has formally annexed the Crimean peninsula, hours after the Russian Federation Council voted on whether to accept the region, which recently seceded from Ukraine.
CBC News reports that the Council's vote was unanimous, which, of course.
Putin's annexation of the region was swift, with occupied Crimea overwhelmingly voting to join the superpower in a hastily-organized referendum last Sunday. The Russian invasion of Crimea began in full two weeks ago in response to the outing of former Ukrainian president Viktor Yanukovich,. The international community has responded with a series of sanctions against Putin and his inner circle.
Surprisingly, Putin still wants to maintain some semblance of relations with the West:
Putin said that that he sees no immediate need for further Russian retaliation to the U.S. sanctions, a stance that reflected an apparent hope to limit further damage to ties with the West that have plummeted to their lowest point since the end of the Cold War.

"We must refrain from retaliatory steps for now," Putin said.

Putin's statement appeared to signal to the West that Russia wants to maintain co-operation in other areas despite the tensions over Ukraine. He said that Russia will keep funding a program to service Afghan helicopters and train their crews that has been conducted jointly with NATO.
In any case, expect the Hitler comparisons to keep pouring in.
[AP/CBC]
[Image via Ria Novosti/Reuters]
— —
>> Follow Tina Nguyen (@Tina_Nguyen) on Twitter
Have a tip we should know? tips@mediaite.com