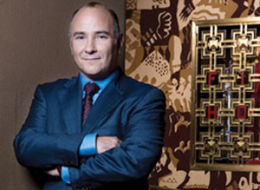 If ever a man's career accurately encapsulated the big media landscape of today, Richard "Mad Dog" Beckman's would be it. After serving Si Newhouse and Condé Nast for 24 years, the New York Post is reporting that Beckman will leave his position as CEO of Condé's Fairchild Fashion Group to become CEO of e5 Global Media, a new trade publication company.
As magazine's struggled through 2009, Beckman was moved within the company last March after serving as president of Condé Nast Media Group. From arranging ad deals across Condé's vast network to running Fairchild Fashion's stable of titles includes Women's Wear Daily, Beckman's move was seen by many as a demotion — a veteran taking the fall for a devastating ad slump. The Post again:
Before moving to Fairchild, the media group under Beckman was believed to be responsible for about 80 percent of the ad revenue that flowed into the company.
Now, Beckman will transition to another huge company, but with a more niche product, in another move highly representative of the media marketplace at large. The newly launched e5 recently acquired a host of trade publications including The Hollywood Reporter, Billboard, AdWeek and MediaWeek, according to the Post.
The Hollywood Reporter confirmed reports today about its company's new CEO:
Beckman said his career and passion have focused on music, entertainment and media, "making this collection of brands particularly alluring to me." He added: "I look forward to developing these valuable brands and improving and extending them in the years to come."
Have a tip we should know? tips@mediaite.com