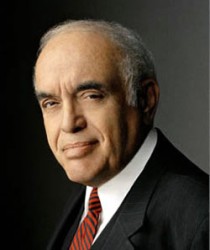 Human Events confirms that longtime conservative columnist and pundit Robert Novak has died at the age of 78. Novak was diagnosed with brain cancer last August, which prompted his retirement.
Novak's column was syndicated by the Chicago Sun-Times for more than 40 years. In a moving obituary, the Sun-Times editorial board highlights the journalistic qualities that elevated Novak above the rest of the political commentariat:
Simply stated, Bob was a relentless reporter. His political columns were marked by his determination to dig out new information, behind-the-scenes anecdotes and Washington secrets to tell us something we didn't know. He combined that with sharp analysis, insightful commentary and passion about the issues facing the nation to emerge as a brawling contestant in the great national debates of his era.

…We at the Sun-Times will remember Bob as a generous friend and colleague, a tireless workhorse, an innovator in journalism and an example of how to practice our profession. His most enduring legacy, though, may well be his work to pass down generation to generation his love of this country, its traditions and its values that guided his life and work.

Novak's work was particularly notable in recent years for breaking one of the biggest scandals of the Bush administration: Plamegate. It was Novak who first publicly identified CIA operative Valerie Plame in his column a week after her husband, U.S. ambassador Joe Wilson, published his op-ed in the New York Times suggesting that Iraq did not have weapons of mass destruction and that the Bush administration had exaggerated claims to that effect; it was believed that Plame had been "outed" in retribution for that article. Novak's column set off a series of events that culminated in a grand jury investigation and the conviction of Scooter Libby for perjury and obstruction of justice in 2007.
According to the Washington Post's obituary of Novak, he "lamented the Plame story would "forever be part of my public identity" despite having written columns he said were more important."
Conservative writer and author Tim Carney worked on many of those columns with Novak, having been recruited by Novak to work on the Evans-Novak Political Report (which Novak continued with after his longtime collaborator, Rowland Evans, died in 2001). He recalled Novak as an insatiable reporter: 
Work for us Novak reporters, in addition to writing the Evans-Novak Political Report, consisted of doing "the opposite of research," as I put it.  Rather than trying to find an answer to a question Novak had — he had another staffer for that — we would try to dig up scoops, leads, and unreported nuggets to feed him.

That Novak would hire a leg-man to go around Washington sniffing out news reflected the virtue at the heart of his work:  His columns, while they resided on the op-ed pages, were built upon previously unreported facts that revealed and explained the machinations of government, the men and women in power, and the politics behind it all.  His job demanded he get a constant flow of new information, but curiosity and a thirst for knowledge were natural traits for him.
Bob Novak was, above all, a reporter.  Watching him work was a delightful education in reporting.
Novak earned the nickname "Prince of Darkness" in Washington for his dim views on human progress; he delighted in the nickname, titling his memoir Prince of Darkness: 50 Years Reporting in Washington.
Related:
Robert Novak, Long-Time Conservative Columnist, Dies at 78 [WaPo]
Remembering Bob Novak [Human Events]
Robert Novak: Innovator's life marked by passion [Chicago Sun-Times]
Have a tip we should know? tips@mediaite.com