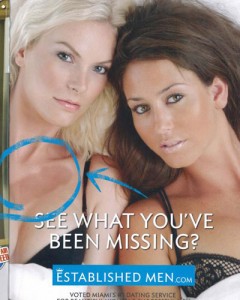 Miami Living, a high-end magazine for wealthy Floridians, featured an ad for the website EstablishedMen.com in their Spring/Summer issue. For those of you who don't know, EstablishedMen is a dating site for "beautiful women and successful men" or, to put it more succinctly, "hot, young gold diggers and rich old leches." However, as Fox News' Pop Tarts blog noticed, the site's male users aren't the only ones with a big profile as the ad prominently features the shadow of an erect penis.
The ad features two sexy women in lingerie lying in bed and looking suggestively into the camera with the text "See what you've been missing?" imposed above them. Eagle-eyed readers (to be honest though, even lesser-sighted birds could see this) will notice, though, that the text isn't the only thing that's imposed (or imposing) on the ad. Over the shoulder of one of the girls is the clear shadow of a penis.
Is it surprising that this ad got published? Probably not. Is it surprising that it's doing wonders for the website? Absolutely not. A rep for EstablishedMen.com (which is unsurprisingly owned by the same people behind AshleyMadison) had this to say to Fox News' Hollie McKay:
"When we created the ad, we never imagined a magazine like Miami Living would approve it, but judging by the amount of sign-ups we received since the magazine has come out, this 'shadow penis' ad seems to work and might become a staple of our campaign," a rep for the website told Tarts. "This ad is definitely a true reflection of what EstablishedMen.com is all about – connecting professional men with beautiful women for mutually beneficial relationships. And knowing that Courteney Cox was going to be on the cover was a big incentive for us."
Heh heh. He said Courteney Cox.
Oh, God! This ad has turned me back into a 13 year old! Save me!
(h/t HuffPo)
Have a tip we should know? tips@mediaite.com