Twitter Smells Something Fishy About That McMaster-Trump 'Idiot' Story (UPDATED)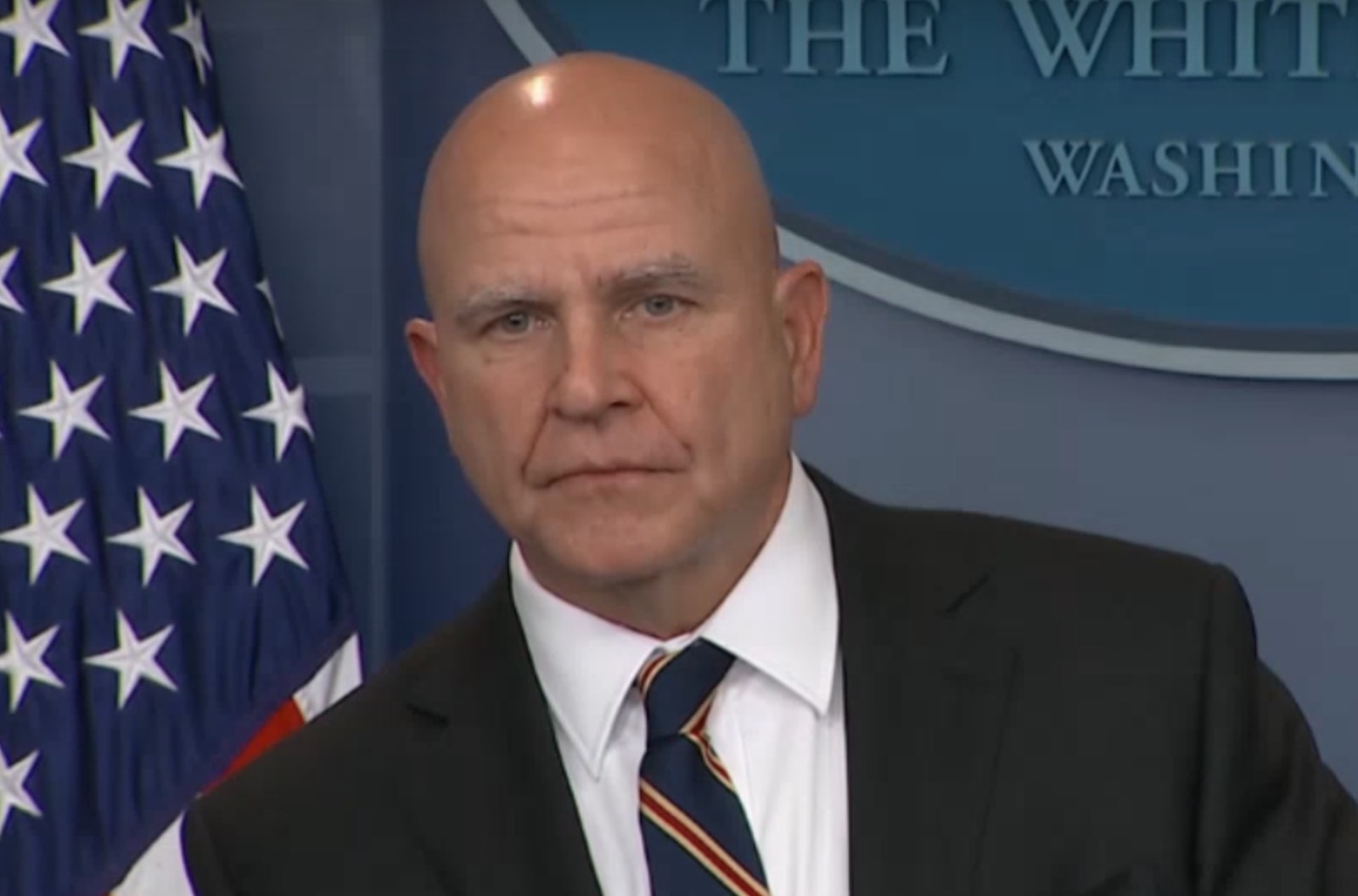 Multiple sources alleged in a Buzzfeed report that National Security Advisor H.R. McMaster openly mocked President Donald Trump at a dinner with Oracle CEO Safra Catz, calling him an "idiot" and a "dope" and suggesting that he had the intelligence of a "kindergartner."
Additionally, a sixth source stated that this was not a one time thing, alleging that McMaster often derides Trump's intelligence level in private, suggesting that he does not have the mental acumen to understand matters pertaining to National Security Council.
"[Catz] said the conversation was so inappropriate that it was jaw dropping," an unnamed source has stated.
While we wait for Trump's forthcoming tweetstorm and/or McMaster's humiliating mea culpa, some folks on Twitter have called into the question the credibility of the report's sourcing, noting a strange discrepancy with the story.
McMaster booted NSC official Ezra Cohen-Watnick in August as part of his purge of the NSC in which he fired many Bannon loyalists. Guess where Cohen-Watnick works now? Oracle, the same software company whose CEO met with McMaster for the dinner in which he is alleged to have gone off on Trump.
The suggestion here is that the story may have been made up by sources holding a gripe against McMaster, a notion far-right Twitter nut Jack Posobiec did not help quell by alluding to the news a full day before it broke.
So, yeah, people are mighty suspicious, with many pointing out that all six sources remain anonymous.
I have questions about the sourcing here. Several anonymous sources say the pro-Trump Catz *did* quote McMaster correctly, but the head of Oracle's DC office denies it happened, and Catz "concurs entirely?" ? https://t.co/iFNxtxTSG1

— Eric Garland (@ericgarland) November 20, 2017
ok now I *really* doubt this happened at all https://t.co/tTDmGZlymP

— Kilgore Trout (@KT_So_It_Goes) November 20, 2017
pretty obviously the work of the usual Pepeland morons trying to work Trump over against McMaster

— Kilgore Trout (@KT_So_It_Goes) November 20, 2017
This isn't the first time a member of the president's staff has allegedly insulted his intelligence. Secretary of State Rex Tillerson called him a "fucking moron" during a meeting with staffers back in July.
UPDATE 3:17 p.m. EST: Buzzfeed reporter Joe Bernstein responded to the Twitter-verse's suspicions on Monday, stating in a tweet that he has "been covering the alt-right for years," and that he "approached this story, which was very much not 'shopped' to me, with an ABUNDANCE of skepticism":
The idea that I (and my editors) didn't consider the motivations of my sources is a joke.

— Joe Bernstein (@Bernstein) November 20, 2017
[image via screenshot]
—
Follow Lawrence Bonk (@sidescrollers) on Twitter
Have a tip we should know? tips@mediaite.com