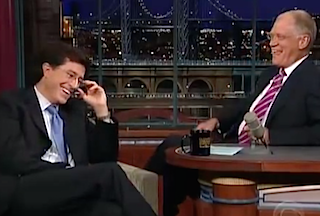 UPDATE (4/10/14, 12:20pm): CBS just made Colbert's succession of Letterman official, confirming that the Comedy Central host will take over the Late Show sometime in 2015. As Colbert will almost definitely be hosting the show as himself, rather than as his Colbert Report character, below is a look at five times he has appeared out of character in the media.
—
Following David Letterman's 2015 retirement announcement, one name that shot to the top of many possible replacement lists (including my own) is Stephen Colbert. Today, Mashable is quoting unnamed sources who say The Colbert Report host is at the top of CBS' wish list to take over the Late Show from Letterman next year.
The general understanding is that if Colbert were to make the move to CBS, he would do so as himself, not the conservative caricature he has portrayed on The Colbert Report for the last eight and a half years. But what might that look like? Colbert has rarely revealed his true self to the public, limiting the interviews he gives to the media and staying firmly in character during appearances like his infamous roast of President George W. Bush at the 2006 White House Correspondents Dinner and his testimony before Congress in 2010.
A shift to a more straightforward late night talk show format would give Colbert a chance to leave his alter ego behind, something that must be attractive to him at least on some level. After all, as brilliantly funny as "Stephen Colbert" is, can he really go on playing someone else for the rest of his career? To get a sense of what the real Stephen Colbert might be like behind the Late Show desk, here's a look back at some of his most prominent out-of-character moments from the last several years.
1. Late Show with David Letterman, 2005
All of the way back in 2005, before The Colbert Report premiered on Comedy Central, a young man named Stephen Colbert dropped by — where else? — the Late Show with David Letterman. Colbert had been on The Daily Show for several years at this point, but was still relatively unknown. Without his Colbert Report character set in stone yet, he had no choice but to introduce himself to the world as, well, himself.
Asked what type of show he would be doing following The Daily Show every night, Colbert answered, "Changing the world." Letterman and the audience laughed, but no one could have predicted how true that statement turned out to be.
2. Meet The Press, 2007
In 2007, Colbert sat down with the now-departed Tim Russert on Meet The Press in one of his first major interviews after launching The Colbert Report two years earlier. He credited his ability to slip in and out of character so easily on his time spent at the Second City theater in Chicago. "The rule there, the old saying is 'wear your character as lightly as a cap,'" Colbert told Russert. "You can take him on and off as you need." He said he dials the character up and down on the show depending on who his interview subject is.
3. NPR's Fresh Air, 2011
Fresh Air host Terry Gross has a knack for getting comedians to break out of their public personas and open up in a realer way than they do during shorter-form interviews. She's done it with Sacha Baron Cohen and multiple times with Stephen Colbert. In 2011, on the occasion of Colbert's appearance in Stephen Sondheim's Company, Colbert discussed his love of musical theater and the chance to play a character other than the one he embodies every night on Comedy Central.
"People could ascribe an insincerity to the things that I tout on the show," he told Gross. "And I didn't want to ascribe any insincerity to trying to go do this [musical] at Lincoln Center. Because I knew that I was dealing with somebody else's delicate product and I didn't want to invest it with my character's ego."
4. Oprah's Next Chapter, 2012
Oprah Winfrey traveled to Colbert's home state of South Carolina in 2012 to have a relaxed and jovial conversation with the host. During the extended interview, Colbert shared his actual thoughts about cable news stars like Bill O'Reilly ("the king") and Anderson Cooper ("the silver surfer of cable news, just shiny and kind of sexy").
5. Meet The Press, 2012
In 2012, Colbert returned to Meet The Press, this time with host David Gregory, who attempted to interview the host both in and out of character. Colbert weighed in on that year's presidential race, saying that even as himself he was glad Romney "got his shit in a pile," because he needed to a conservative candidate he could support in the race.
Visit NBCNews.com for breaking news, world news, and news about the economy
6. The Lead, 2013
Colbert sat down with CNN's Jake Tapper last year to discuss his sister's congressional campaign.
[photo via screengrab]
— —
>> Follow Matt Wilstein (@TheMattWilstein) on Twitter
Editor's note 04/10/14: This post has been republished from an earlier date – Jon Nicosia
Have a tip we should know? tips@mediaite.com