Journalists Rip Apart 60 Minutes for 'Embarrassing' and Uncritical NSA Report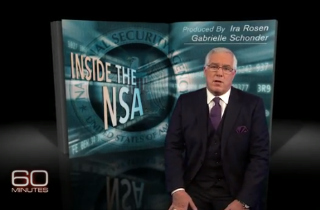 CBS's 60 Minutes found itself in hot water again on Sunday evening after critics took to social media to blast the newsmagazine show for an "embarrassing," borderline hagiographic report on the National Security Agency and concerns about the government bureau's use of domestic surveillance, all without a single opposing voice included.
The report was filed by John Miller, who disclosed at the outset that he once worked with federal intelligence officials. Miller and his producers claimed, through various means, that the piece was important because anti-NSA voices have had their chance, but the government's effectively let itself be painted as a "villain" without telling its own story.
Interviews with NSA chief Keith Alexander made up the majority of the segment, with the controversial official concluding that, despite the agency's critics, "This is precisely the time that we should not step back from the tools that we've given our analysts to detect these types of attacks."
Miller claimed that he wanted to throw the toughest questions out there at the NSA official, but many seem unconvinced that this was anything but a fluff piece for the state:
That 60 Minutes access-for-uncritical-reverence NSA propaganda piece was a new low for US journalism http://t.co/mEx6jzsxv9

— Glenn Greenwald (@ggreenwald) December 16, 2013
Wow, the 60 Minutes piece about the NSA was just embarrassing. Kudos to the NSA communications staff. You guys should get a raise.

— Ryan Lizza (@RyanLizza) December 16, 2013
So 60 Minutes assigns a friend of the military to a military story & a friend to intelligence to an intelligence story. Great.

— Jeff Jarvis (@jeffjarvis) December 16, 2013
I honestly think this NSA propaganda video (http://t.co/VC0DKTkohU) was more hard-hitting than tonight's 60 Minutes travesty.

— Ben Wizner (@benwizner) December 16, 2013
If you thought the Lara Logan debacle was new low for @60Minutes, watch last night's NSA whitewash. Not a single skeptical voice.

— TimKarr (@TimKarr) December 16, 2013
"NSA Doing Great Job, NSA Says" – 60 Minutes

— Dave Itzkoff (@ditzkoff) December 16, 2013
Adding further to the intrigue is the fact that Miller was reportedly negotiating a new intelligence/counterterrorism job with the NYPD while reporting uncritically on the NSA:
If this is true, how in the world did 60 Minutes not disclose it last night? http://t.co/KKwlvATuod

— Ryan Lizza (@RyanLizza) December 16, 2013
Watch a portion of the segment below, via CBS:
[h/t HuffPost]
— —
>> Follow Andrew Kirell (@AndrewKirell) on Twitter
Have a tip we should know? tips@mediaite.com