8 Shocking Revelations from the NY Times Investigation Into Rupert Murdoch's Media Empire and Fox News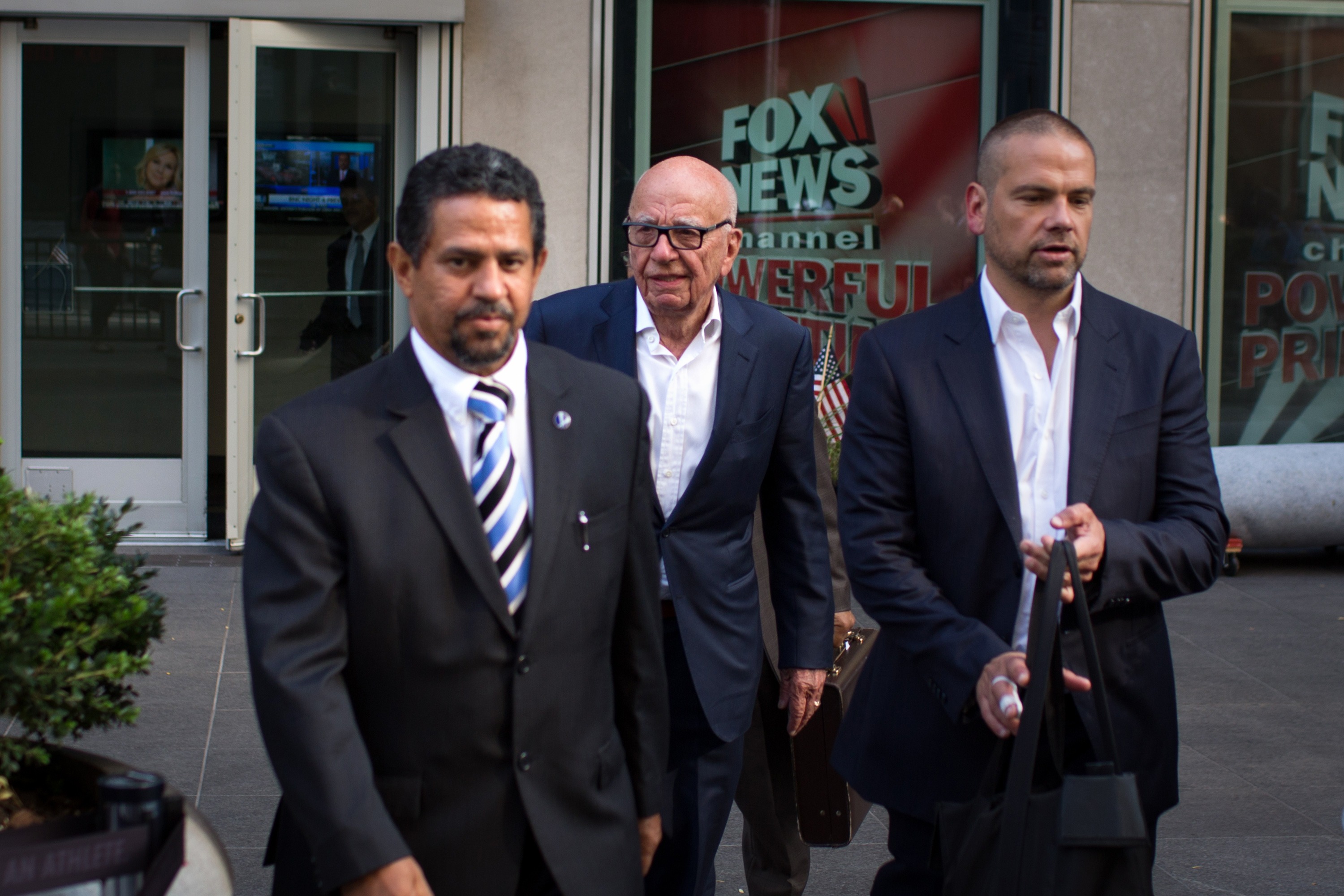 The New York Times just published a massive investigation into Rupert Murdoch's empire, their control over Fox News, and the future of his family in the aftermath of their sale of 21st Century Fox to Disney.
The story, penned by Jonathan Mahler and Jim Rutenberg, is fascinating and packed with new reporting on Fox News as well as the Murdochs, who now run Fox Corporation — the slimmer company left behind after the sale that includes Fox News as its most profitable entity.
As the Times puts it:
A six-month investigation by The New York Times covering three continents and including more than 150 interviews has described how Mr. Murdoch and his feuding sons turned their media outlets into right-wing political influence machines that have destabilized democracy in North America, Europe and Australia.
Lachlan Murdoch, Rupert's eldest son, is running Fox Corporation. James Murdoch, who is more liberal than both his brother and father, is heading up a family office to manage the Murdochs' ballooning fortune (the 21st Century Fox sale made Murdoch's sons billionaires.) Rupert is overseeing the pair — for now.
Here are the biggest takeaways from the report.
1. Rupert Murdoch almost died
It has been reported before that Rupert Murdoch stepped away from day-to-day operations at Fox News after he suffered a nasty back injury in a fall on Lachlan's yacht. The Times reports that it was worse than previously known: he suffered a broken spine, and was helicoptered off the yacht to a hospital, from where his wife, Jerry Hall, frantically called his children to his bedside in preparation for his death. He survived, but the fight to succeed Rupert as the leader of his sprawling, international media empire was made clear to Lachlan and James.
2. James Murdoch wanted to revamp Fox News after Roger Ailes's ouster to make it less partisan and irresponsible
While James and Lachlan disagreed on most things (read: almost everything), they apparently both hated Roger Ailes. When the sons finally forced out the longtime CEO over a sexual harassment scandal, James Murdoch wanted to revamp the network and make it less partisan, according to the Times.
He wanted to maintain its conservative bona fides, but make it a more responsible outlet — "one whose hosts would no longer be free to vent without adhering to basic standards of accuracy, fairness and, as he saw it, decency."
James even proposed the network hire CBS News president David Rhodes to replace Ailes. Lachlan and Rupert shut that down, and in a move that signaled they were sticking to Fox's controversial programming, hired Ailes's replacement from within.
3. Sean Hannity advised Michael Cohen to be on the lookout for Trump mistresses
Much has been made of the symbiotic relationship the Trump administration enjoys with Fox News, but the article describes host Sean Hannity as "effectively been a member of his campaign team," who's 9 p.m. show has become a "nightly hourlong campaign infomercial." As hard evidence of Hannity's support, the report alleges that during the 2016 campaign the Fox News host encouraged Trump's lawyer, Michael Cohen, to seek out women who might present a problem for the then-candidate.
The Fox host had effectively been a member of his campaign team, for instance pressing Trump's personal lawyer, Michael Cohen, to be on the lookout for former girlfriends and employees who might make trouble for the candidate ahead of the election, two people familiar with the interactions told us. (Hannity, through a Fox representative, denies having done so.)
4. Trump preferred interviews with Bill O'Reilly over Hannity
Trump's close relationship with Sean Hannity has been well reported, but the Times piece suggests Trump finds Hannity to be too much of a suck-up in interviews, instead preferring the more combative style of former Fox News host Bill O'Reilly — which allowed Trump to show off his fighting side:
Trump was also spending a lot of time on the phone with Hannity, who regularly called the president after his show. Trump had often found him to be too much of a supplicant for his purposes: He preferred his more combative interviews with Bill O'Reilly, which he felt better showcased his pugnaciousness, according to a former White House official. But Trump appreciated Hannity's loyalty.
5. Fox News culture blew up the Murdochs' bid for Sky
The Murdochs twice tried to buy Sky, the British telecom company that owns Sky News. Twice, James saw the deal blown up by British regulators in humiliating ways. The first time, Murdoch's phone-hacking scandal in England blew up the attempted acquisition. The family made a second attempt, in 2016. This time it was blown up by Fox News.
British regulators focused on the culture of Fox News, specifically the millions in payouts to accusers that led to the ouster of Ailes and Bill O'Reilly. Regulators also focused on the ethics of Sean Hannity, particularly his coverage of the Seth Rich conspiracy theory. The British government eventually ruled that no one from the Murdoch family could even serve at Sky, once again humiliating James.
6. The Murdoch sons clash on everything, including whether to reassure Muslim employees about Trump's ban
According to the Times, the bitter struggle between James and Lachlan to succeed their father has left them barely on speaking terms. Lachlan ended up winning, which infuriated James, who was long considered the natural successor.
Politics is also a crucial sticking point for the two sons: Lachlan is far more conservative, and more defensive of Fox News's incendiary and pro-Trump programming. James was increasingly concerned by it.
In early 2017, when President Trump issued his executive order banning immigration from certain Muslim majority countries, James tried to convince Lachlan and Rupert to send a companywide memo opposing the policy and reassuring its Muslim staff.
Lachlan fought to water down the memo, and remove all reference to Trump and his Muslim ban. James privately complained that even sending out the tepid version was "like pulling teeth."
7. Trump once faxed Bret Baier his resume after Stephen Hayes called him a "clown" on air
Trump is not just a viewer of Fox News programming but also a sensitive critic. This was particularly the case during the Republican primaries in 2016 when Trump felt has wasn't the favorite of the network. The Times reports that he even went so far as to fax his resume to Special Report anchor Bret Baier after a contributor called him a "clown" on air:
After the Fox contributor and Weekly Standard editor Stephen F. Hayes called Trump "a clown," Trump faxed Baier a copy of his résumé, with a note scrawled across it in black marker: "Tell Hayes no clown could have done all this!"
8. The Murdochs are kickstarting a Fox News in Australia
While the Murdochs' repeated attempts to acquire Sky may have failed, the family did make a smaller purchase in their home country: Sky News Australia. According to the Times, they have imported the Fox News model.
While Sky News Australia used to be politically balanced, following the Murdoch takeover "the network began increasing the amount of right-wing commentary it broadcast during prime time."
Per the Times:
Known as Sky After Dark, the opinion-heavy, almost-uniformly right-wing lineup was an entirely new phenomenon in Australian TV. Its nighttime ratings spiked as the network quickly became required viewing for the country's political class.
The Murdochs were even accused by former Aussie PM Malcolm Turnbull of using their media properties in the country to foment the coup that dumped him from office. He was replaced by right-wing nationalist Scott Morrison.
BONUS: Rupert Murdoch calls Trump a "fucking idiot"
Per the Times:
Murdoch recognized Trump's appeal as a tabloid character and ratings driver, but he did not see him as a serious person, let alone a credible candidate for president. "He's a [expletive] idiot," Murdoch would say when asked about Trump, three people close to him told us (Through a spokeswoman, Murdoch denied that he ever used this phrase to describe Trump.).
Read the full report, in three parts, here.
[Photo by Kevin Hagen/Getty Images]
Have a tip we should know? tips@mediaite.com