A Flabbergasted Maddow On GOP Filibustering: 'Congratulations! You Won Nothing!'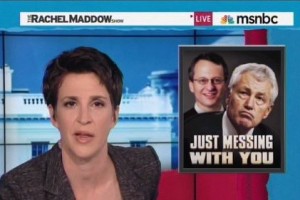 Rachel Maddow ended her show tonight by revisiting the Republican filibuster of now-Defense Secretary Chuck Hagel in the context of a judicial nomination that was also held up in the Senate. This particular Republican filibuster was surprising, since his nomination was proposed by two of the most conservative Republicans in the Senate, which led Maddow to the conclusion that Republicans are just filibustering high-level nominees "for nothing."
RELATED: Rachel Maddow Slams GOP's Unprecedented Hagel Filibuster As 'A Fresh Hell In American Politics'
Maddow introduced viewers to Judge Robert Bacharach, whose appointment to the 10th Circuit Court was approved by Oklahoma senators Tom Coburn and James Inhofe. This was after her strong emphasis of just how big a red state Oklahoma is. What followed, as Maddow explained, was that the Republican-led Senate actually filibustered that nominee.
Maddow said the hold on Bacharach was 263 days, but at the end of all that, when the GOP finally relented and allowed the full vote on the Senate floor, the vote ended up being 93-0. Maddow asked, "They picked him, why should they object to him?"
She tied this back in to the Hagel confirmation, which finally happened today with a 58-41 vote after an unprecedented filibuster of a Cabinet nominee. She said they basically had the same "who knows?" reasoning for halting the Hagel nomination, which may have had the unintended consequence of giving Democrats future precedent to hold up a future Republican president's Cabinet nominees.
"Mazel tov! Congratulations! You won nothing. But you did further break the institution where you work."
Watch the video below, courtesy of MSNBC:
—–
Follow Josh Feldman on Twitter: @feldmaniac
Have a tip we should know? tips@mediaite.com
Josh Feldman - Senior Editor