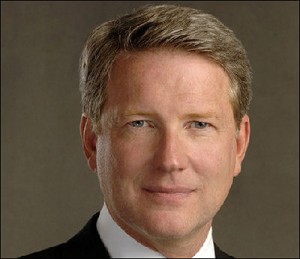 David Westin announced he was leaving his position as ABC News president two months ago, saying at the time that he'd stay "through the end of the year."
There have been several reports about potential candidates, but while interviews have taken place internally and externally, the position remains unfilled and we hear there's still no obvious front-runner.
Insiders tell Mediaite James Goldston, currently Executive Producer of Nightline, has been interviewed and could be considered the "in house favorite". He was recently promoted to also oversee This Week. Other internal candidates interviewed have been Jon Banner, Executive Producer of World News, Jim Murphy, Executive Producer of GMA and Kate O'Brian, senior VP of news. Still, the fact that these interviews have taken place with no clear favorite shows Disney President Anne Sweeney may not believe the next ABC News President is part of the crop of internal candidates.
Mediaite hears Ben Sherwood has been considered as well, but the former ABCer is now making a name for himself in Hollywood. We've also heard Andy Lack was considered as part of a potential merger with Bloomberg, but that is off the table. There have also been at least two possible candidates considered known less for their news background than for their expertise in digital media, though that has the potential to alienate some within the TV division of ABC News.
Marisa Guthrie reports one name thrown around, Rebecca Campbell (President of ABC Owned Television Stations Group) has "been disavowed." In September, Glynnis MacNicol wrote about other potential female candidates, like Alex Wallace, the number two at NBC News.
While there's no front-runner, it's also not crunch time yet, as Westin has agreed to stay through the end of December. This decision could highlight a divide within Disney and ABC News – money vs. journalism, although it's becoming increasingly difficult to distinguish between the two.
An ABC News spokesperson declined to comment.
—–
» Follow Steve Krakauer on Twitter
Have a tip we should know? [email protected]