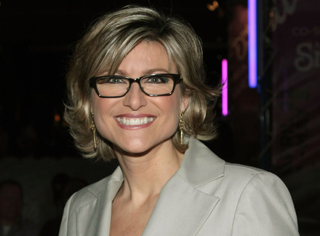 ABC News said goodbye to correspondent Ashleigh Banfield this week as she departs for a venture hosting a new morning program at CNN next week. Mediaite has learned that her colleagues toasted Banfield in the Executive Dining Room on her last day at the network yesterday, and ABC News President Ben Sherwood led a champagne toast to Banfield, commending her and wishing her luck on her new endeavor.
Sherwood thanked her for her work at the organization along with many ABC News senior executives, including ABC News Vice President David Reiter; Tom Cibrowski, Ethan Nelson, and Kris Sebastian of Good Morning America; Nightline Executive Producer Jeanmarie Condon; Director of Domestic News Wendy Fisher; and many others.
RELATED: Report: CNN To Replace American Morning With Two New Shows
Banfield's career surged with her work at MSNBC, where she began working in 2000 covering international stories and hosting a primetime show (her coverage of the September 11, 2001 terror attacks garnered her Emmy recognition). She later moved on to Court TV (now TruTV) covering legal news before moving on to ABC News. She leaves for CNN with coverage of the Casey Anthony trial as her last big assignment.
When reached for comment about her departure from ABC News, Banfield told Mediaite: "It was tough saying goodbye to such brilliant and talented people at ABC News. While wistful… I am eager to start a new chapter with CNN's top-notch live platforms and worldwide news brand. And I just know we will all cross paths again..on the next big story!"
[Photo via]
Have a tip we should know? tips@mediaite.com