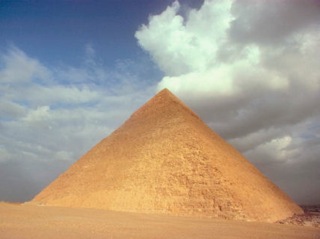 For most Americans, yesterday– November 11, 2011– was an interesting-looking set of numbers that made 11:11 AM and 11:11 PM particularly fun to commemorate (by that most revered of American traditions, typing away semi-thoughtlessly on Twitter). The date was something slightly more controversial for the last remaining Wonder of the Ancient World, however, as Egypt shut down the Great Pyramid at Giza citing maintenance issues, but facing controversy as a number of groups were rumored to plan the performance of rites to commemorate the date.
According to The Guardian, the Egyptian government denied rumors that "outfits as diverse as the 'Universal Kabbalah Network' and the '11.11.11 Gathering of Souls'" were planning events at the Pyramid, including, possibly, holding hands and meditating around the pyramid. The Guardian only describes most of the potential ceremonies as coming from "shadowy groups," and the response from the Egyptian government over who these people could be and what they were planning was also shaky, as they denied they had shut down the pyramid to prevent a takeover by any one group, instead citing "essential maintenance":
"It has been a big cause now on Facebook and Twitter for many people to write about," said Ali al-Asfar, director of the Giza complex.

He confirmed that an Egyptian company had filed a request to hold a "hug the pyramid" event, in which 120 people would hold hands around the base of the structure, but insists official permission was denied. Antiquities head Mustafa Amin also dismissed the rumours, saying they were "completely lacking in truth". The pyramid is was [sic] set to reopen on Saturday.
RELATED: 11/11/11: Internet Goes Crazy For Nigel Tufnel Day! (While Overlooking Veteran's Day?)
The reaction also seems at least in a dim way political, as The Guardian also notes opposition to new age groups comes from "the revolutionary April 6th movement, whose members vowed to hold a sit-in at the Giza complex and block access to new age revellers." And to think, all this trouble because of a goofy-looking date that, for Americans, meant only an annoying Twitter feed for a few hours and gratuitous Spinal Tap references.
Have a tip we should know? tips@mediaite.com