Anderson Cooper Interrogates A Disgraced Nir Rosen Over Lara Logan Twitter 'Jokes'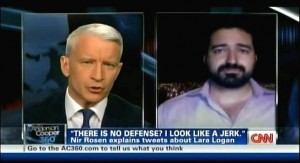 On CNN's Anderson Cooper 360 tonight, CNN host Anderson Cooper confronted Nir Rosen over the controversial Tweets he made about CBS correspondent Lara Logan's recent attack and sexual assault in Egypt. Rosen, you may recall, recently resigned from his post as a NYU fellow after his Tweets about Logan's attack drew heavy criticism.
An interesting little detail to note is that Rosen actually mentioned Cooper in his Tweets as well, writing that Logan had been trying to "outdo" Cooper, who also made headlines after being hit in the head by angry demonstrators while covering the protests in Egypt. Rosen also Tweeted that while he didn't "support" the attack on Logan, it "would have been funny if it happened to anderson [sic] too."
In his "Keeping Them Honest" segment, Cooper undermined Rosen's insistence that he did not know Logan assault had been of a sexual nature when he published the offending Tweets by pointing out that Rosen had in fact included a link to a report mentioning that very fact.
Rosen told Cooper that, "I don't have an explanation. I was a jerk," adding that he didn't pause to think that his words would reach more than a few people. "No matter how I try to explain," he said, "I look like a jerk."
Cooper was aggressive in his questioning of Rosen, repeatedly asking how it could possibly have been that Rosen could have, one assumes, read an article about the attack without knowing the severity of its nature when he posted his Tweets.
Rosen then shared that he felt upset over the fact that, of the many, many women who are assaulted every single day, it is a woman who happens to be white and well-known who ends up receiving international attention and sympathy for the crime she endured.
Have a tip we should know? tips@mediaite.com