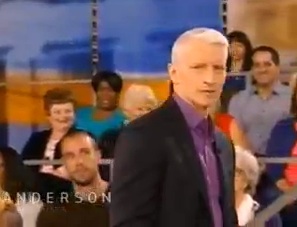 On Tuesday's edition of Anderson Cooper's daytime talk show, plastic surgery proponent Sarah Burge described why she had her 15-year-old given botox. Her explanation was that the botox prevents the daughter from sweating while dancing on stage. Cooper was skeptical of this explanation, and as the interview went on, he grew disgusted with Burge, ultimately calling her "dreadful" and kicking her off the show.
"My daughter is a professional dancer," Burge told an incredulous Cooper. "All my children are professional people, and she perpetually sweated on her forehead. And so the best answer for that was actually a shot of botox. I didn't give it to her."
"Obviously," Cooper shot back.
"What do you mean obviously? I'm a practitioner myself," she stressed.
"Just about anybody can give botox these days," Cooper observed.
"They might here. I don't know," she said.
"So giving a 15-year-old botox because she sweats on her forehead because she's a professional dancer?" Cooper pressed.
"She's a dancer, yes," Burge replied.
"I've never heard of that," Cooper said.
"Well, you wouldn't. You wouldn't hear of it, would you? Because you're not in that industry," Burge responded. "I'm in the plastic industry and an associate of many plastic surgery companies."
Cooper told Burge there is no medical need for a teen to have botox.
"In that case, he doesn't know what he's talking about. There are medical indications as well," she claimed.
"What's wrong with a 15-year-old sweating?" Cooper interjected.
"Not on the stage. You wouldn't see Beyonce sweating on the stage, would you?" Burge surmised.
"Actually, you do," Cooper countered. "You actually do see Beyonce sweating on stage."
"I would prefer to oversee my daughter's botox than actually have her going underground, finding a voodoo witch doctor or, in fact, getting it off the internet and administering it herself," she said.
"I try to be really polite to all my guests," he told her. "I think you're dreadful and I honestly don't want to talk to you anymore."
Watch Cooper kick off Burge below:

(
h/t HuffPo
)
Have a tip we should know? tips@mediaite.com