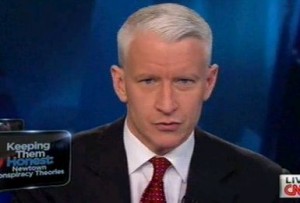 Believe it or not, there are actually people out there who are convinced that last month's horrific shooting in Newtown, Connecticut was staged. Anderson Cooper opened his show tonight taking on these conspiracy theorists. He said that ordinarily, he wouldn't give much thought to insane conspiracies, but one of the people pushing them is a Florida professor who raises doubts as to whether the shooting "ever took place" in the way that the media described, and the whole thing was just a huge conspiracy to get the country behind gun control. And as if that wasn't unbelievable enough, he also suspects that some of the parents of the children were really actors.
RELATED: Colbert Takes On NRA's Wayne LaPierre: 'You, Sir, Are F**ked In The Head'
Cooper couldn't fathom how this professor could possibly have such kind of doubts, but he found an even crazier theory going around the internet: one of the little girls killed at Sandy Hook was not, in fact, present, which Cooper described as "sickening." And Cooper himself was even connected to the conspiracies, as one mother he interviewed on camera was not crying during the interview, therefore, by the logic of the conspiracy theorists, she could not have possibly been a real grieving mother.
Cooper said that in all the years he's interviewed people in grief, he has never seen people react the same way every single time, dismissing this theory as simply "ignorant." The aforementioned professor, regrettably, has elevated the conspiracy theories to a mainstream level that have spawned much outrage, especially over the fact that a public university is keeping him on the payroll.
Cooper brought on CNN reporter John Zarrella to reveal that they tried to have the professor on the program, but instead Zarrella went to Florida to confront the professor about his remarks. Zarrella revealed that over the phone, the professor said he would only provide an e-mail response, in which the professor apologized for "any additional anguish and grief" his comments may have caused, though for the most part he stuck to his guns.
Watch the video below, courtesy of CNN:
—–
Follow Josh Feldman on Twitter: @feldmaniac
Have a tip we should know? tips@mediaite.com
Josh Feldman - Senior Editor