Andrew Breitbart Hits Occupy LA Protest, Brings Eric Bolling The Video Evidence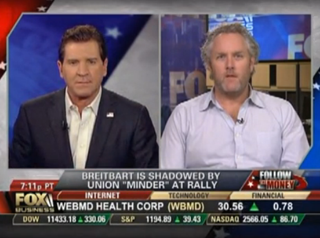 Given the many comparisons between the Occupy Wall Street protests and its satellites and the Tea Party movement, it was about time the leaders of one movement collided with the other. On Follow the Money tonight, Tea Party veteran Andrew Breitbart gave his testimony of his experience walking around the Occupy Los Angeles protests, where a union member followed his every move and avowed socialists told him of their conversions.
Host Eric Bolling first played some of the footage, where Breitbart confronted a man following him, who was a member of the SEIU and, upon being asked why he was following Breitbart, only responded that he was "minding" him and that "I have a right to be here, just as you do." Breitbart explained that the response had its origins in the fact that Breitbart had a history of exposing the fact that their protests were union based– "they have realized that I realized that these Astroturf Occupy Wall Street Wisconsin things are organized by these unions, public sector unions like the SEIU," he told Bolling.
RELATED: Ann Coulter To Eric Bolling: Wall Street Protests Look Like 'The Beginning Of Totalitarianism'
Breitbart then gave a history of the leftist populism that seemed to explode in the past few weeks with the Wall Street protests, suggesting it was an offshoot of a group called the "Coffee Party," which was an attempt to paint the Tea Party as "unreasonable, violent, and too loud." "The Coffee Party went nowhere," he continued, "so the same group of people with the same grievances are trying to change the onus from government… to the corporations and the banks."
RELATED: Geraldo Greeted By Occupy Wall Street Protestors Chanting 'Fox News Lies'
To further illustrate who these "same group of people were," Bolling then showed an interview with a protester who declared herself a socialist and, when asked where she got those ideas, responded that there were three people critical to her conversion: two professors of hers and "my best friend in prison." Despite being anti-Wall Street, Breitbart told Bolling he believed the protesters to be mostly Obama supporters, especially those mobilized by the unions, as their objective was to "stick their hands in the eyes of the Tea Party."
The segment via Fox Business below:

Have a tip we should know? tips@mediaite.com