President Obama Reveals He'd Decided To Come Forward On Gay Marriage Before Biden's Comments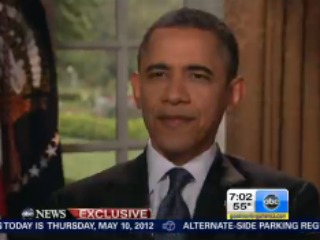 On Thursday, Good Morning America aired the full interview with President Barack Obama over his beliefs on same-sex marriage. ABC had essentially "scooped" its own interview earlier yesterday, revealing that the President had told interviewer Robin Roberts that "for me personally, it is important to go ahead and affirm that I think same sex couples should be able to get married."
RELATED: Prez and the Evolution: President Obama Comes Out For Gay Marriage To Robin Roberts
Roberts revealed that the White House had called ABC directly to offer the interview and that she hadn't quite known exactly what he was going to say until the interview was underway. In the interview, the President cites gay members of his own staff and gay parents of his daughters' friends as two factors that helped change his own "evolving" views on same-sex marriage.
Roberts pointed out that the issue "is not being worked out on the state level," pointing to North Carolina voters' decision just this week to define marriage in their state constitution as existing solely between a man and a woman.
"What I'm saying is that different states are coming to different conclusions," Obama replied. "I think it's important to recognize that folks who feel very strongly that marriage should be defined narrowly as between a man and a woman, many are them are not coming at it from a mean-spirited perspective. A bunch of them are friends of mine. Pastors and people who I deeply respect."
"Especially in the black community," added Roberts.
"Right," the President agreed. "Absolutely. But I think it's important for me to say to them, that as much as I respect them, as much as I understand where they're coming from, when I meet gay and lesbian couples, for me, I think it just has tipped the scales in that direction."
As to whether Vice President Joe Biden essentially "forced" the President into coming forward with his views on gay marriage, Obama told Roberts "would I have preferred to have done this in my own way, in my own terms, without, I think, there being a lot of notice of everybody? Of course. But all's well that ends well."
The interview also touched upon a few lighter issues, including the President's plans for Mother's Day and his embarrassment over accidentally "leaving" the First Lady on Air Force One.
Have a look, via ABC:
Have a tip we should know? tips@mediaite.com