Barney Frank: 'I Don't Want To Be The Indispensable Nation,' Some Places Should 'Dispense With Us'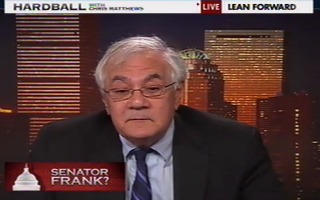 Former Rep. Barney Frank (D-MA) joined Chris Matthews on MSNBC on Thursday in an ongoing effort to lobby for the position of interim Massachusetts senator should Sen. John Kerry (D-MA) be confirmed by the U.S. Senate to replace Sec. Hillary Clinton in the State Department. Frank spoke extemporaneously on a number of foreign policy issues, but he broke with longstanding American foreign policy doctrine when he rejected the premise of President Bill Clinton's famous 1997 inaugural address when he called America the "indispensable nation." "I think there are parts of the world that should learn to dispense with us," Frank said.

RELATED: Pres. Obama To Nominate Sen. John Kerry For Secretary Of State
Matthews asked Frank for his opinion on a variety of foreign policy issues, notably for his impression of what American foreign policy should be for foreign leaders that the U.S. would prefer to see deposed.
"Don't we have to have an alternative plan for these bad guys," Matthews asked.
"It's not up to us," Frank said. "I wish that we could go into a lot of these places and make things work well. I wish we could bring democracy and peace, but I wish I could eat more and not gain weight. And I find that when I act on unrealistic wishes, the results are not so good."
He said that America can and should voice its opinion and encourage those undesirable leaders to accept a deal that would send them into exile. Frank believes, however, that the U.S. has no other tools available to affect a solution to a crisis like the ongoing civil war in Syria or the 2011 civil war in Libya.
"It's not our obligation to do it, while wealthier nations are sitting back," Frank said of foreign interventions.
"I don't want to be the indispensable nation," Frank said. "I think there are parts of the world that should learn to dispense with us."
"Don't retire," Matthews replied appreciatively.
Watch the clip below via MSNBC:
> >Follow Noah Rothman (@Noah_C_Rothman) on Twitter
Have a tip we should know? tips@mediaite.com