Ben Stein Stuns Fox & Friends: 'All Due Respect To Fox' But 'Taxes Are Too Low'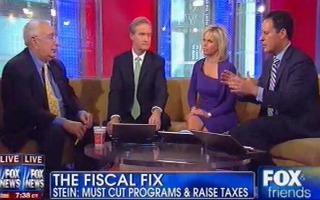 Author and economist Ben Stein joined Fox & Friends on Thursday where he stunned the hosts after he called for raising the tax rates on people making more than $2 million per year. He said that he did not think that the United States simply had a spending problem, and cited the early post-war period as an example of a time when you could have high tax rates and high growth.

"I hate to say this on Fox – I hope I'll be allowed to leave here alive – but I don't think there is any way we can cut spending enough to make a meaningful difference," said Stein. "We're going to have to raise taxes on very, very rich people. People with incomes of, say, $2, $3, $4 million a year and up. And then slowly, slowly, slowly move it down. $250,000 a year, that's not a rich person."
Stein said that the government has a spending problem, but they also have a "too low taxes problem."
"With all due respect to Fox, who I love like brothers and sisters, taxes are too low," said Stein.
"That sounds like Bowles-Simpson," said Gretchen Carlson.
"It is Bowles-Simpson," Stein replied.
"The evidence is that there is no clear connection between the level of taxation and the level of economic activity," said Stein. "The biggest growth and prosperity we've ever had in this country was from roughly 1941 to 1973. That was the best years we've ever had and those were years of much higher taxes than we have now."
"Taxes were at 70, 80 percent then," said Steve Doocy.
"And yet, we were very prosperous," Stein replied. "The highest rate was in the 90s during parts of the 50s, and yet we were very prosperous."
Watch the clip below via Fox News Channel:
> >Follow Noah Rothman (@Noah_C_Rothman) on Twitter
Have a tip we should know? tips@mediaite.com