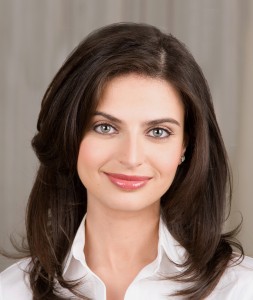 Bianna Golodryga will be the new co-anchor of Weekend Good Morning America, ABC News announced today. Golodryga takes the spot vacated by Kate Snow, who joined NBC in March.
It's a fast rise for financial correspondent Golodryga, who joined the network in July 2007.
From ABC's report on the story:
Golodryga will join co-anchor Bill Weir, news anchor Ron Claiborne and weather anchor Marysol Castro on the broadcast beginning this Saturday.

"Since coming to ABC News in July 2007, Bianna has distinguished the network with her reporting on the economy and recent financial crisis," Westin said in an e-mail to the ABC News staff about the announcement.
Golodryga is a protege of CNBC's Maria Bartiromo, who she has been compared to. She also started her career as a producer, than as an on-air correspondent, for CNBC. She's also recently engaged to White House budget director Peter Orszag, who she enjoys tweeting about: "My fiance is by far the best looking man at the correspondents' dinner. Even if I have a vested interest." (Cute or gag, your choice.)
This is a good chance to check in with our original Mediaite Oddsmakers when Diane Sawyer's Good Morning America co-anchor seat opened up in September. Here's a few of who we had listed as possible replacements, and where they are now:
• Chris Cuomo – Promoted to anchor at ABC's 20/20 and to run their legal unit.
• Kate Snow – Now at NBC.
• Ashleigh Banfield – Joined ABC News in January.
• Alexis Glick – No longer with FBN. Still up in the air where she ends up next.
• George Stephanopoulos – Named GMA co-anchor.
• Bianna Golodryga – Now Weekend GMA co-anchor.
—–
» Follow Steve Krakauer on Twitter
Have a tip we should know? tips@mediaite.com