Bill Keller: Sometimes Santorum Sounds Like 'He's Creeping Up On A Christian Version Of Sharia Law'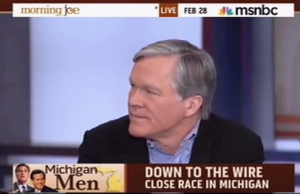 Bill Keller, former executive editor of the New York Times, paid a visit to Morning Joe on Tuesday. The panel discussed Rick Santorum's controversial remarks about the separation of church and state and his take on freedom of religion. Much of this rhetoric, Keller said, is a fear tactic — similar to how Newt Gingrich warned us about Muslims and Sharia law.
Toward the beginning of the segment, Keller essentially compared the GOP primary to a circus (certainly not the first time we've heard that analogy): "The whole campaign has been like one of those little cars that come out in the circus. One clown gets out and another clown gets out. You can't believe any more clowns could get out, and they keep coming."
RELATED: Brit Hume: Santorum's 'Unnecessary Controversies' On Social Issues Are 'Political Malpractice'
Joe Scarborough then played a clip of Santorum criticizing the use of the phrase "freedom of worship" in lieu of "freedom of religion." In the clip, Santorum says, " Freedom of worship is not just what you do within the sanctuary. It's how you practice your faith outside the sanctuary and, at least in the America that I grew up in, that used to be around, that was freedom of religion."
Scarborough and Mika Brzezinski both had no idea what Santorum was talking about, and Keller responded:
Remember earlier in the campaign when Newt Gingrich was worrying everyone about Sharia law — the Muslims were going to impose Sharia law in America? Sometimes Santorum sounds like he's creeping up on a Christian version of Sharia law.
Scarborough added that Santorum, like Gingrich, "is trying to scare people" by telling them we live in "this brave new world." Keller replied that, if nothing else, Santorum at least means exactly what he says.
Watch the segment, via MSNBC:

Have a tip we should know? [email protected]