Bill Kristol And Jane Harman Battle: Should America 'Prove To The World' Tsarnaev Deserves Civilian Justice?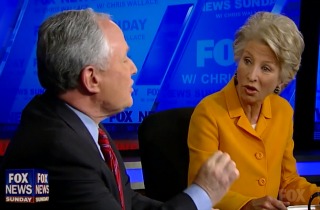 A panel debate on Fox News Sunday between Weekly Standard editor Bill Kristol and former Rep. Jane Harman (D-CA) exploded over the nature of the threat posed by militant Islamic radicals and whether the suspects in the Boston Marathon bombing are representative of that threat. They battled over whether Dzokhar Tsarnaev deserves due process in an American court without being declared an enemy combatant in the war on terror.

RELATED: Maddow Questions Miranda Rights Exception In Bombing Arrest: 'American Citizen Will Face American Justice'
Fox News host Chris Wallace asked Kristol how he believes the U.S. should achieve a balance between observing Boston bombing suspect Tsarnaev's rights as an American citizen and extracting as much intelligence from him as possible regarding his links to terror organizations.
"Well, are we at war with a global jihadist threat or not?" Kristol asked. He said that many would prefer to suggest that a law enforcement model that deals with the results of an attack after the fact is appropriate. "The guy spent six months abroad just a year ago. If we don't use enemy combatant for him, when are we going to use it?"
Kristol said that there should at least be a curiosity on the part of American officials about the Tsarnaev's links to "Al Qaeda-connected" groups in the Caucasus region in the former Soviet Union.
"I just don't think that's how the model works," Harman countered. "Even in military commissions, which have not secured any convictions, really, against anyone since 9/11, there is a right to counsel and there are procedures, too, all of which keep getting tested, and tested, and they don't work."
"Treating him as an enemy combatant has nothing to do with military commissions," Kristol shot back. "Do we need a single thing he says to convict him?"
"Probably not," Harman added. "The point is that military commissions don't work."
"I'm not for military commissions," Kristol clarified. "I'm for treating him as an enemy combatant."
Harman said that intelligence will be extracted during a normal conviction process, and America will also "prove to the world" that American citizens can have access to the rule of law even if they commit acts of terrorism.
Watch the segment via Fox:
> >Follow Noah Rothman (@NoahCRothman) on Twitter
Have a tip we should know? tips@mediaite.com