Bloomberg Unloads On 'Stop And Frisk' Opponents: Whites Stopped 'Too Much' And 'Minorities Too Little'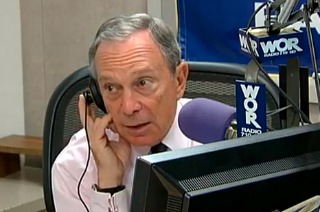 Appearing with host John Gambling on New York City's WOR, Mayor Mike Bloomberg attacked opponents of the city's so-called 'stop and frisk' program. "It's society's job to make sure that no one group is disproportionately represented as potential perpetrators," Bloomberg said. "I think we disproportionately stop whites too much and minorities too little."

"Most crimes in our city – serious crimes – are committed by male, minorities 15 -25," Bloomberg told Gambling. "When it comes to policing, the police have to be able to go out and stop, look for, those that fit the description of a witness or a victim after a crime."
He said that if the NYPD was unable to do that, they would be turning "over the streets to the criminals."
RELATED: NYPD Commissioner Defends 'Stop-And-Frisk' Against Critics: 'African Americans Are Being Understopped'
"Cop's job is to stop so many of groups fitting a description," Bloomberg declared. ""It's society's job to make sure that no one group is disproportionately represented as potential perpetrators."
The Mayor said that the program has reduced the number of guns on the streets because young gun owners think they are going to be stopped and searched for weapons.
"I thought, actually, [New York City Comptroller] Bill Thompson said it pretty well, he said 'I don't like stop and frisk, but I want my kid to live,'" Bloomberg asserted.
He said that the murder rate has dropped precipitously in the city as a result of this program. "To sit there and say, 'Well, let's run the social experiment, okay? Let's stop these things and see if the it goes up. I don't think it will,'" Bloomberg said. "What will you say to the parents of the kids that are murdered?"
There is this business, there's one newspaper and one news service, they just keep saying, 'Oh it's a disproportionate percentage of a particular ethnic group. That may be, but it's not a disproportionate percentage of those who witnesses and victims describe as committing the murder. In that case, incidentally, I think we disproportionately stop whites too much and minorities too little.
Listen to the audio below via WOR:
h/t Capital New York
> >Follow Noah Rothman (@NoahCRothman) on Twitter
Have a tip we should know? [email protected]