Bobby Jindal Warns of U.S. 'No-Go Zones' if We Don't Force Muslims to Assimilate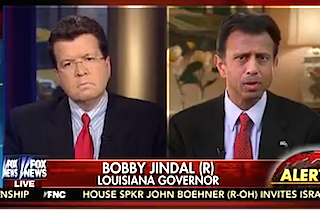 Governor Bobby Jindal (R-LA) doubled down on his controversial comments about so-called "no-go zones" for non-Muslims in a big way during a Fox News interview Wednesday afternoon. He even suggested that if the U.S. doesn't take the threat of radical Islam seriously, we could have our own "no-go zones" in the near future.
Jindal began by addressing comments made on MSNBC by human rights attorney Arsalan Iftikhar, who was banned from appearing on the network after suggesting the governor was trying to "scrub some of the brown off his skin" with his "no-go zone" talk. "It's foolish that MSNBC even gave somebody like this a platform," Jindal said of Iftikhar.
"Did you know the term 'no-go zones' was wrong?" Fox's Neil Cavuto asked. "We reported the same and we were wrong. We botched it. We apologized for it," he said of Fox's series of apologies for similar statements. "You are not, I take it?"
Jindal said that while Fox apologized for calling "an entire city" a "no-go zone," that he was merely referring to certain neighborhoods in those cities. "You can call them whatever term you want, but absolutely there are neighborhoods, we have communities of people that don't want to integrate or assimilate," he said.
As an Indian-American, Jindal argued that we have to start removing the hyphens from our identities here in the United States. "If people don't want to come here to integrate and assimilate, what they're really trying to do is set up their own culture, their own communities," he said. "What they're really trying to do is overturn our culture. We need to recognize that threat."
"If we don't, we're going see a replica of what's happening in Europe in America," the governor continued. "We're going to see our own no-go zones if we're not serious about insisting on assimilation and integration."
Asked once more if he wanted to take any comments back, Jindal replied, "Absolutely not."
Watch video below, via Fox News:
[h/t TPM]
[Photo via screengrab]
— —
>> Follow Matt Wilstein (@TheMattWilstein) on Twitter
Have a tip we should know? tips@mediaite.com