British Journalist On CNN: Twitter Took Down My Account Because Of 'Commercial Relationship' With NBC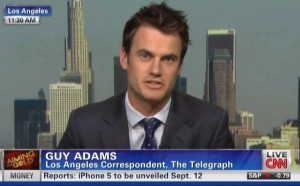 British journalist Guy Adams had his Twitter account taken down yesterday after a series of tweets heavily criticizing NBC's coverage of the London Olympics. Apparently, the straw that broke the camel's back was when Adams posted the e-mail address of an NBC executive on Twitter, which was supposedly in violation of Twitter's policy against posting private e-mail accounts, even though Adams claims it does not count in this case because it was a corporate e-mail. Adams appeared on CNN earlier today to defend himself, and suggested that Twitter may have taken down the account because of their "commercial relationship" with the network.
RELATED: British Journalist Guy Adams Has Twitter Account Suspended After Criticizing NBC's Olympic Coverage
Shortly before Adams appeared on the air, Twitter un-blocked his account and let him back on. Adams explained he received an e-mail from Twitter saying that NBC decided to drop the complaint against him and they would reinstate his account. Brooke Baldwin read the alleged complaint NBC sent and asked Adams exactly how he got his hands on the e-mail address in question. Adams said he typed the executive's name into Google and found it there.
Adams said he has been trying to speak directly to someone at Twitter but they have not been returning his calls, in order to find out exactly why his account was taken down in the first place. Baldwin explained that CNN was able to reach Twitter, and told Adams they would not give any comment on an individual user's account.
Baldwin brought up an instance several months ago when Spike Lee tweeted what he believed to be the address of George Zimmerman, but turned out to be the home of completely innocent people, pointing out that Lee was never actually banned from Twitter. Adams found that distinction to be puzzling, wondering why he was "targeted" but Lee was not.
"I suspect – I have no way of proving, although there are various – I have quite good reason to suspect that the reason it took me – Twitter to take its complaint against me seriously is because they're in a – they have a commercial relationship with NBC, and they want to give NBC, if you like, special treatment. I think Twitter needs to clarify whether that did happen."
Twitter has an official partnership with NBC during the Olympics. And in addition to what Baldwin said about Spike Lee, TechCrunch points out that celebrities have tweeted information on a more personal breach of privacy than anything Adams ever did, yet their accounts were not taken down.
Watch the video below, courtesy of CNN:
Have a tip we should know? tips@mediaite.com
Josh Feldman - Senior Editor