Bush Remarks On Gay Marriage, Defends Obama's NSA Tactics: 'Got Into Oval Office, Realized The Dangers'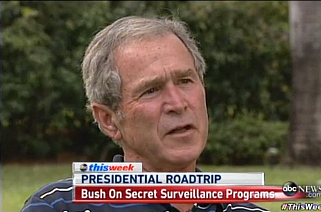 George W Bush, currently on a bit of a comeback tour that began with the opening of his library and recently took him through Africa, spoke to a red-socked Jonathan Karl about gay marriage, immigration reform, and the revival of his counterterrorism policies under the Obama administration.
Obama's counterterrorism policies have been widely viewed as a continuation of Bush's, especially since the release of classified material revealing the Democrat's surveillance practices as an extension of Bush's, rather than a repudiation of them. Members of Bush's administration have wagged that Obama is now leading a "fourth Bush term."
Bush himself was more empathetic. "The president got into the Oval Office and realized the dangers to the United States," he said, "and he's acted in a way that he thinks is necessary to protect the country. Protecting the country is the most important job of the presidency."
The thorniest moment of the interview came when Karl asked Bush about a comment the former president had made recently in response to a question on the compatibility of gay marriage and Christianity, in which Bush semi-paraphrased Matthew 7:5: "I shouldn't be taking a speck out of somebody else's eye when I have got a log in my own."
"I meant that I wasn't going to answer the question then, and I'm not going to answer it now," Bush told Karl. "I just don't want to wade back into the debate. I'm out of politics." Bush then averred a bit. "I meant it's very important for people not to be overly critical of someone else until you examine your own heart."
Karl pressed him on whether he's evolved on gay marriage. "You didn't hear my answer," Bush said, in the same key of blunt charm that marked his presidency. "I'm not going to wade into those kinds of issues. The only way I can really make news is either criticize the president, which I don't want to do, criticize my own party, or wade in on a controversial issue. I'm off the stage."
Bush was more forthcoming on immigration reform, a key issue of his second term and one of his major disappointments.
"The legislative process can be ugly, but it looks like immigration has a chance to pass," he said. When Karl asked whether its failure could doom the Republican Party, Bush added: "The reason to pass immigration reform is not to bolster a Republican Party, it's to fix a system that's broken. Good policy yields good politics."
Watch the interview here, via ABC News:
—
>> Follow Evan McMurry (@evanmcmurry) on Twitter
Have a tip we should know? tips@mediaite.com