Carney Distances White House From 'Independent Agency' IRS's Targeting Of Conservative Groups
Carney Distances W.H. From 'Independent Agency' IRS's Targeting Of Conservative Groups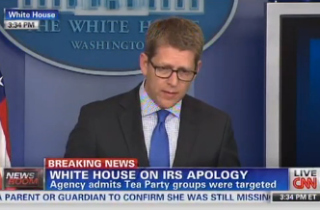 The first question aimed at Press Secretary Jay Carney during today's White House press briefing was about the Internal Revenue Service's confirmation and apology for targeting conservative political groups for additional tax scrutiny during the 2012 election cycle. In his response, Carney made an effort to distance the Obama White House from the IRS, calling it an "independent enforcement agency."
"My understand is that this matter is under investigation by the [Inspector General] at the IRS," Carney said in response to Senate Minority Leader Mitch McConnell's (R-KY) request that the White House call for a review of the IRS's conduct.
"The IRS, as you know, is an independent enforcement agency with only two political appointees," he continued. "The fact of the matter is what we know about this is of concern. And we certainly finds the actions taken, as reported, to be inappropriate. And we would fully expect the investigation to be thorough and for corrections to be made."
When pressed on whether it's understandable that many see the IRS's targeted moves as "politically motivated," given the administration's negative sentiment towards the Tea Party movement, Carney responded by reiterating that "the IRS is an independent enforcement agency, which I believe contains only two political appointees within it."
Carney concluded by noting that "the individual running it at the time was actually an appointee from the previous administration," suggesting that political motivations could not have played a role given that IRS official's Republican connections.
Watch below, via CNN:
— —
>> Follow Andrew Kirell (@AndrewKirell) on Twitter
Have a tip we should know? [email protected]