Carson Defends Shooting Comments: 'I Want to Plant in People's Minds What to Do'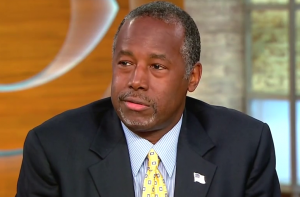 Republican presidential candidate Ben Carson defended his comments that he wouldn't have just "stood there" during the Oregon shooting, saying on CBS's This Morning that he was just trying to prevent future tragedies.
"What did you mean when you said "I would not just stand there?" asked CBS' Norah O'Donnell.
"I want to plant in people's minds what to do in a situation like this," Carson said. "Because unfortunately, this is probably not going to be the last time this happens."
"Do you believe the victims in Oregon just stood there?" she asked.
"From the indications that I got, they did not rush the shooter," Carson responded. "The shooter can only shoot one person at a time, he cannot shoot a whole group of people. And so the idea is overwhelm him so not everybody gets killed."
But O'Donnell pointed out that one victim Chris Mintz did rush the shooter, but only ended up shot seven times. "That is exactly what should be done," Carson said. "If everybody does that, the likelihood of him killing as many people diminishes quite significantly."
He denied that he was being insensitive to victims. "…We live in a culture now where people decide everything you say, we need to set up battle lines and we need to get on this side of it or that side of it, rather than collectively trying to figure out how we solve the problem. It's sort of an immature attitude but it seems to be something that's rampant in America today."
Watch above, via CBS.
[Image via screengrab]
——
>>Follow Alex Griswold (@HashtagGriswold) on Twitter
Have a tip we should know? tips@mediaite.com