Chris Matthews Panel Predicts Team Obama Hoping For Gingrich Over Romney In 2012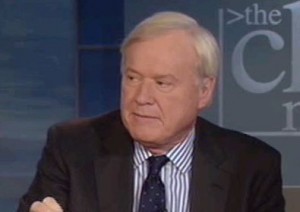 The question of electability versus ideology is currently haunting different facets of the Republican party. Some believe they can win with a moderate like Mitt Romney, others want a strong conservative to win the nomination so they can have someone in the White House who shares their values. Chris Matthews discussed this with the panelists on his show today, and how it relates to the rise of Newt Gingrich's presidential campaign and whether he will be able to sustain his lead heading into Iowa.
Major Garrett brought up the Gingrich's rise to the top of the pack and suggested it was solely due to the fact that more contemporary Republicans with higher popularity numbers than Gingrich are not currently in the race. Despite whatever flaws people think Gingrich is carrying with him in the race, Garrett pointed to his accomplishments as Speaker of the House in the 90s, including the Republican revolution of 1994 and welfare reform.
Matthews analyzed Gingrich's fight in the race as a two-front war where he has to appeal to both the center-right and the far right. Whereas the center-right will embrace him for his ideas, Matthews argued, the far right has gotten about the Gingrich train because of the passion he has shown in the past few weeks to rile up Tea Party audiences.
RELATED: Rachel Maddow: Newt Gingrich Polling Well With Tea Party Because Of His Support Among Senior Citizens
However, Republicans are still wary of Gingrich on a number of issues, as Gloria Borgerpointed out, including his past positions on an individual mandate (which Romney has received the most criticism for in the race). Borger boiled the Gingrich-Romney battle down to whether you trust Gingrich's "new principles" or Romney's "no principles."
David Ignatius recalls a Newt Gingrich who angered the Republican party in the 90s because they believed he was "erratic" and not a good leader for the party. Garrett added that Gingrich only narrowly won the vote to be reelected Speaker of the House.
RELATED: SuperPACs Attack Mitt Romney's Attacks On Newt Gingrich By Airing Attacks On Newt Gingrich
Matthews then brought up the results of a poll he conducted on the "Matthews Meter" of the shows top 12 guests, and all but one of them agreed that the Obama reelection team is hoping for Gingrich as an opponent next year over Romney because Romney can still appeal to moderates in a way that could hurt the president in the polls. Garrett predicted that as the Iowa caucuses approach, Gingrich will only widen his lead in the polls and become more disciplined when the primary season is upon us.
Watch the video below, courtesy of NBC:
Have a tip we should know? tips@mediaite.com
Josh Feldman - Senior Editor