Matthews To Panel: Republicans Hurting Themselves 'In A Year They Should Be Winning'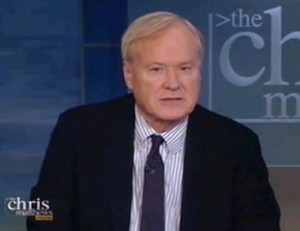 With all the focus on the Republican presidential candidates these days, it's easy to forget there's another side to this too. And on his show today, Chris Matthews looked at President Obama's slowly-but-steadily increasing poll numbers, and compared them to the upward trends felt by both Ronald Reagan and Bill Clinton before they went on to win re-election. But it's not all smiles for the Obama team, they still have issues like job recovery and rising gas prices to deal with.
RELATED: January Jobs Report Brings Good News For The Economy…And Bad News For Republicans
Matthews brought up an upcoming column by George Will with a rather grim view of the Republican party's prospects in the fall.
"A great year to win, they're probably going to lose, in fact, lose by Barry Goldwater dimensions. A wipeout. Is this Rush Limbaugh thing the kind of thing that's getting them this sense of forbidding in a year they should be winning?"
Bob Woodward said that the biggest problem the Obama administration could face this year is a seismic shift in the economy that no one may be able to predict. CNBC anchor Becky Quick acknowledged the very real possibility of unemployment going back up to 9 percent by the November election.
Kathleen Parker predicted that if economic trends continue along the same path, though, there's a significant chance Obama will win reelection. And she actually suggested potential conflict in the Middle East would be a boon to his prospects, because "people don't really want to change horses in the middle of an international crisis." Major Garrett said the Obama administration is concerned about a potential economic reversal sometime in the summer, but the Republicans still face some issues to deal with voters like the contraception debate. And, of course, Obama is facing no serious primary challenges, which helps him overall.
Gas prices have been making their way into the headlines recently, and even though the president has no direct control over price fluctuation, Matthews argued it can still be an albatross around Obama's neck if prices soar to a higher number like six dollars. Quick agreed that it would increase, but maybe up to five dollars. Parker added that this line of attack might work because gas prices are something every American is affected by, while Garrett said it would only work if the Republicans tied it into a general set of grievances on the economy.
RELATED: George Will: 'Preposterous' For GOP To Think They Can Use 'High Gas Prices' As Big Campaign Issue
Watch the video below, courtesy of NBC:
Have a tip we should know? tips@mediaite.com
Josh Feldman - Senior Editor