Chris Matthews On Leno, Admits Obama's Handling Of Gulf Oil Spill 'Scares' Him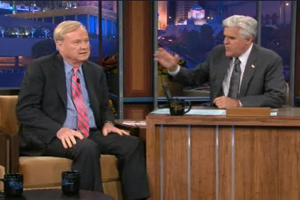 The days when Barack Obama only gave Chris Matthews tingles down his leg are long gone. Visiting Jay Leno in a more casual appearance than his daily Hardball stint allows, Matthews expressed his outrage with former vice president Dick Cheney and his ties with Halliburton, as well as BP's failure to stop the oil leak in the Gulf of Mexico. The surprise? Not only is he also not happy with the way the White House has handled the spill, he admits President Obama's behavior on this issue "scares me."
Matthews has been fairly vocal about his criticism of Cheney in the past, and continued his attack today, asking, "Why would an oil company give a guy 34 million bucks when he becomes vice president?" and accusing the Bush administration of writing energy policy for the last eight years "in the back rooms with Cheney and the oil companies." An opinion he has been slightly more quiet on is his discomfort with the fact that President Obama has not assumed the level of ownership over the problem that he would like to see, as well as "not telling us the truth of what how much [oil] is down there":
The President scares me. He's been acting like, you know, a Vatican observer here. When is he going to actually do something? And I worry– I know that he doesn't want to take ownership of it, I know the politics, because the minute he says 'I'm in charge' then he's blamed. But somebody is going to have to take charge.
He also called the oil "the scariest thing I've ever seen," gave a plug for his new campaign to find a Republican that disagrees with Rush Limbaugh on anything, and even got in a good jab at fellow guest Chelsea Handler.
Video below:

Have a tip we should know? tips@mediaite.com