CNN Airs Emotional Live Interview With Driver Of Limo In Which 5 Bridal Party Members Died In A Fire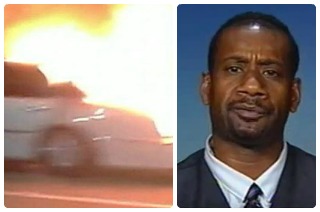 The driver of a limousine in which five women were killed in a fire on the way to a bridal shower appeared on CNN on Monday to describe the incident. The driver detailed the emotional and traumatic experience, and explained what he thought the causes of the fire may have been. "Everything happened so fast, it was just a very scary situation," the limo driver said on CNN.

The 1999 Lincoln Town Car limousine caught fire crossing a bridge near San Mateo, California, on Saturday night. Several women escaped the blaze but five others, including a newlywed, died in the blaze.
46-year-old Orville "Ricky" Brown, the limo driver, appeared on CNN with Brooke Baldwin on Monday to describe his experience.
When asked how he was, Brown replied that he was "just trying to get through a really horrific experience." He said that the occasion was "joyous" at first until he was asked by one of the passengers if she could smoke. Brown recalled asking her to wait the four minutes until they arrived at their destination.
Brown said that, after 30 seconds, he could smell smoke. He pulled over and immediately one of the passengers jumped through the limo's partition to escape the growing flames.
"I'm shaking. I'm nervous," Brown said describing his effort to call first responders in the first minutes of the blaze. "It was horrific."
"By the time the back door was open, half the – when that back door opened, it just burst into flames," Brown said. "There were so many flames and everything happened so fast."
Watch the clip of the interview below via CNN:
> >Follow Noah Rothman (@NoahCRothman) on Twitter
Have a tip we should know? tips@mediaite.com