CNN and MSNBC Both Claim 2013 Ratings Victories over Each Other as Fox Remains #1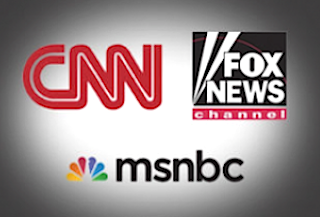 We've come to the end of 2013, which means it's time to look back on the year in cable news ratings. As they've done in the past, both CNN and MSNBC are doing their best to spin the year's numbers to show how they emerged victorious in 2013. Since both networks trail Fox News by large margins, they are forced to compete against each other and take solace in second place. But how can CNN and MSNBC both be in second place this year? Here's how they're spinning it:
CNN
While CNN has continued to struggle in the key 25-54 demo in prime time since Jeff Zucker took over the network at the beginning of the year, their best numbers have come from the daytime hours in total viewers.
With an average of 418K total viewers in total day, CNN topped MSNBC, which had 398K. But perhaps CNN's biggest victory over MSNBC was that the former network's ratings stayed relatively steady compared to 2012, while MSNBC dropped significantly. While CNN dropped just 1% in total viewers (418K vs. 417K), MSNBC was down 21% for the non-election year (398K vs. 501K).
Other good news for CNN came in the 7pm hour, where, despite Chris Matthews's renewed success for MSNBC, Out Front with Erin Burnett saw an 11% increase in total viewers over 2012 (503K vs. 454K) and a 17% increase in the demo (161K vs. 138K). At 8pm, Anderson Cooper 360 was up 19% in total viewers (654K vs. 549K) and 21% in the demo (204K vs. 169K), besting MSNBC's new 8pm offering All In with Chris Hayes.
Another place where CNN beat MSNBC was the 4pm hour, where the new show The Lead with Jake Tapper came out ahead of MSNBC's now-canceled Martin Bashir in both total viewers and the demo.
MSNBC
"MSNBC TOPS CNN IN PRIMETIME FOR THE FIFTH CONSECUTIVE YEAR," reads the first line of MSNBC's year-end press release. The network topped CNN during the key 8-11pm ET hours by a large margin in total viewers (739K to 614K) and a more narrow one in the 25-54 demo (203K to 196K).
MSNBC's advantage extended to the 6 and 7pm hours as well, during which PoliticsNation with Al Sharpton and Hardball with Chris Matthews each topped their CNN competition in both total viewers and the demo. Since it switched to showing first-run episodes at 7pm only, Hardball's demo audience increase by 31%.
Despite some late competition from Matthews, Rachel Maddow was the overall ratings victor for MSNBC, averaging 861K total viewers and 240K in the demo for the year.
Fox News
Of course, while CNN and MSNBC battled for #2, Fox News maintained its dominance, holding the #1 spot in the 25-54 demo and total viewers for the 12th consecutive year. In total viewers, Fox beat CNN and MSNBC combined. And it appears that Fox's new prime time line-up, which launched at the beginning of October, has only improved things for the network.
As the only show to stay in place after the shake-up, The O'Reilly Factor at 8pm saw modest gains of 4% in total viewers and 6% in the demo. But the other time slots saw larger increases. On The Record with Greta Van Susteren at 7pm was up 13% in total and 11% in the demo. The Kelly File gave the 9pm time slot an impressive 23% boost in total and 13% in the demo. And at 10pm, Hannity was up 13% in total and 17% in the demo.
Fox's other big hit, The Five, saw its numbers continue to grow in 2013 as well, having its highest total viewer numbers (2.032M) since launching in 2011. Still, without an election in 2013, Fox's overall ratings did drop year-to-year. The network was down 13% in total prime time viewers to 1.771M and down 30% in prime time demo to 296K.
The Bottom Line
There's no denying it: When it comes to cable news in America, no one can touch Fox News. And it's hard for CNN to spin their numbers into a victory over MSNBC. While it's true that MSNBC saw the biggest drops in viewership compared to 2012, they still beat CNN where it counts in prime time.
Despite his best efforts to shake things up, Jeff Zucker was not able to turn the CNN ship around in just one year. MSNBC's Phil Griffin admitted that his network is "not the place" for breaking news, but as long as there are enough viewers who want to see what MSNBC's liberal commentators think about the politics of the day, they may not need to be. However, if Zucker spends 2014 encroaching on its biggest rival by injecting more "attitude" into CNN's programming, next year could be an even more competitive showdown.
Data by Nielsen Media Research.
— —
>> Follow Matt Wilstein (@TheMattWilstein) on Twitter
Have a tip we should know? tips@mediaite.com