CNN Hosts Challenge Guest's Assertion That Lifting Boy Scouts' Gay Ban Will 'Lead To Human Tragedy'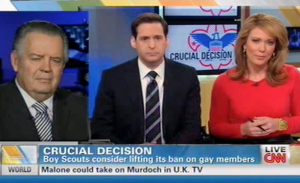 The Boy Scouts have been in the news quite a bit since deciding to consider lifting their ban on gay members. But some conservative groups have been vehemently opposed to the idea, even taking out a newspaper ad to say so. Richard Land is the president of one of those groups — the Southern Baptist Convention — and spoke to CNN on Tuesday about it. As he expressed his views, however, hosts Brooke Baldwin and John Berman challenged him.
Land said the Boy Scouts are under pressure from corporate sponsors and that lifting the ban would be "catastrophic" for the organization because the members overwhelmingly oppose the policy change.
"You can't have a local option to a core conviction," Land said. Berman pointed to the "freedom of thought" the newspaper ad cited, asking whether the organization doesn't have that same freedom to make this decision.
"What they're doing is to appease their left coast and right coast appendages," Land said. "They're cutting out the heart and soul of Scouting in the rest of the country."
Baldwin compared this decision to the Southern Baptist Convention's decision to eventually allow women to be pastors in churches. How, she asked, is this any different? "If you make it a local option, it's no longer a core value," Land asserted.
Going back to Land's earlier remark, Berman further asked, "Are you saying not allowing gay members is the heart and soul of Scouting?"
"The Scouts have said for themselves for over 100 years that traditional morality is at the core value of Scouting — teaching them to be morally straight," Land replied. "I'm not accusing homosexuals of being pedophiles, but I'm accusing homosexuals of being what they say they are: attracted to males."
Baldwin pointed to studies that show homosexuals are not any more likely to be pedophiles, a remark that Land quickly reacted to, noting that's not what he said.
"This verges on being beyond the realm of the rational, and it's going to lead to human tragedy," Land argued. "It's going to lead to human tragedy, and the human tragedy is going to be, sadly, boys and men who are going to end up in relationships that are going to be tragic."
Watch below, via CNN:

Have a tip we should know? tips@mediaite.com