CNN Panel Erupts When Guest Blames American Gun Culture For Homegrown Muslim Terrorism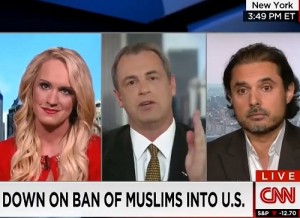 A CNN panel discussing the possible negative consequences of Republican presidential candidate Donald Trump's proposed Muslim ban for American Muslims devolved into a shouting match when one of the guests blamed Muslim terrorist acts like the San Bernardino shooting on American gun culture.
Arun Kundnani, author of The Muslims Are Coming!, claimed that "since 9/11, far more people have died in far right-wing terrorist attacks than in terrorism carried out by Muslims." Trump surrogate Scottie Hughes interrupted, calling Kundnani's assertion "false," and conservative writer Kurt Schlichter shook his head in disbelief.
That's when the New York University lecturer made his second point.
"Let's look at Muslim terrorism. Notice that main trend that we're seeing in Muslim terrorism is Muslims no longer focusing on planes when they commit acts of terrorism. They're carrying out mass shootings. In other words, Muslim terrorists are becoming more like Americans. They're integrating into American gun culture, and they're becoming more like you."
Needless to say, neither Hughes nor Schlichter were at all pleased with Kundnani's line of argument.

"If every person in that room in California had had a gun on their ankle, I guarantee you they would not have been dead at this point. That's the gun problem, and you have spun that so much," said Hughes. "This is why we don't trust Muslims in this country, because they lie like you just did."
"I do trust Muslims. I trust the ones I worked with. I trust the ones I served with," added Schlichter, "but the truth is the truth. There is a cancer in the Muslim community, and the first responders have to be Muslims."
When CNN anchor Poppy Harlow tried to call Hughes out for grouping all Muslims together with her "we don't trust" line, the Trump surrogate doubled-down on her previous comments.
"They are why they are distrusted. That's why we distrust them! If they would be more open… Open up your clerics. Open up your mosques. Let's see what you're teaching these folk," said Hughes. "You want to actually help your community? Turn in the bad ones."
Check out the clip above, via CNN.
[Image via screengrab]
— —
>> Follow Andrew Husband (@AndrewHusband) on Twitter
Have a tip we should know? tips@mediaite.com