CNNer Goes Off on Rangel Slavery Remark: 'You're an Idiot' if You Agree with Him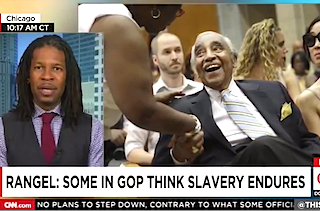 With just a few days left before the midterm elections, Rep. Charlie Rangel (D-NY) is upping his rhetoric against the GOP, telling a rally crowd for Gov. Andrew Cuomo (D-NY) this week that some Republicans "believe that slavery isn't over, and that they won the Civil War." That message did not ring true for a bipartisan panel on CNN Friday morning, with commentator LZ Granderson taking the opportunity to take Rangel down a few notches.
"I'm trying to figure out why is he even still in office," Granderson said. "You know, after he's been busted on eleven counts of ethics violations, why is he still in office? Because the types of things that he's doing right now — saying those kinds of things are absolutely ridiculous and have no place in politics, it has no place in the Democratic Party! And if you think what he said is true, then I'm just going to tell you the truth: You're an idiot!" he continued. "Because slavery, and that time period, does not exist today!"
"I'm sick of people comparing President Obama to Hitler and people comparing the GOP to racists back in slavery times," he continued. "It just isn't true."
-RELATED: Granderson's Stand Against Rangel Was Great, Until You Hear What He Once Said About Slavery
Republican strategist Ana Navarro agreed, saying she has trouble taking anything Rangel says "seriously," noting that the congressman could not even get President Obama's endorsement in his last primary.
Predicting that he would "get a lot of flak" on social media for what he was about to say, Granderson added, "When it comes to certain aspects of talking about different races, certain ideas and perspectives, it's time to die off," comparing it to the country's evolution on same-sex marriage. "If you're still saying, 'nothing has changed in society,' and we have an African-American president in the White House, then I just don't know what to say to you rationally to get you to change your mind."
Watch video below, via CNN:
[h/t NRO]
[Photo via screengrab]
— —
>> Follow Matt Wilstein (@TheMattWilstein) on Twitter
Have a tip we should know? tips@mediaite.com