CNN's Dana Bash to Paul: Can You Avoid Getting Testy with Female Candidates?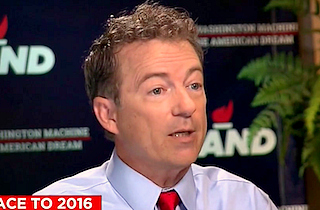 Senator Rand Paul (R-KY) was asked on multiple programs Sunday morning about his testy exchange with NBC's Savannah Guthrie last week, which led to questions of whether he bristled at being challenged by female interviewers, or could take criticism in general.
To CNN's Dana Bash, Paul denied any gendered difference in how he approached interviewers, but insisted that he needed a chance to resist the "editorializing" of an interviewer's question. She asked if Paul would be able to control that temper on a debate stage with Hillary Clinton.
"I would treat her with the same respect that I would treat a man, but I wouldn't lay down and say 'I'm not going to respond,'" Paul said. "That would be a sexist sort of response, to say, 'Oh, my goodness, she deserves to be treated as aggressively because she's only a woman.' I would never say that about anybody. I don't come into our interview thinking, 'Okay, it's a woman-versus-man interview.' I think she has tough questions, he will ask tough questions, I have to be prepared."
On Meet the Press, Paul claimed his directness came from his experience as a doctor, and that he had found Guthrie's question bordering on "snide."
"We could all be better," he conceded. "Some interviewers could be better some times, and politicians could be more tolerant of interviewers."
Watch the clips below, via CNN and NBC:
[Image via screengrab]
——
>> Follow Evan McMurry (@evanmcmurry) on Twitter
Have a tip we should know? tips@mediaite.com