CNN's Blitzer and Borger Wonder Why Obama Wasn't Informed of NSA, Obamacare Scandals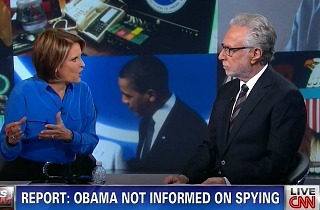 On Monday, CNN anchor Wolf Blitzer and the network's chief political analyst, Gloria Borger, dug into the news that President Barack Obama was unaware of the scope of the National Security Agency's spying programs until they were revealed in the press. Blitzer and Borger agreed that, like the problems with HealthCare.Gov, Obama should have known about these issues before he was made aware of them by reporters.

Blitzer began by playing a series of clips of the president going back to 2008 where he consistently reminded voters that "the buck stops with me."
"Apparently didn't know about [German Chancellor] Angela Merkel's cell phone, if you believe this latest report," Blitzer said. "He didn't know there were significant problems, before October 1, rollout of the Obamacare website, but he has often said the buck stops with him."
RELATED: Officials Claim Obama Unaware of Foreign Spying Program Until Revealed in the Press, WSJ Reports
"The website is one thing," Borger said. "Many times the president's the last to know things, because there's this huge funnel of things that come into the White House."
"The question is, what got to [Health and Human Services Sec.] Kathleen Sebelius' desk," she said in regards to the failed debut of HealthCare.Gov. She added that "when things go wrong in government," oftentimes the person responsible will cover it up from their superiors including the president.
"This is sometimes how badly government works," Borger continued. She added, however, that she has "a hard time believing" Obama did not inquire about how the ACA's website would function after roll-out.
"This is his signature issue," Blitzer said. "This is the most important achievement of his presidency."
Turning back toward the NSA spying controversy, Borger added that an NSA official should have informed the president of the scope of that spying program.
"If he didn't know that there was a blunder there – a major blunder – the president should understandably be very, very upset," Blitzer submitted. "He's probably saying to himself, 'Maybe I should have been more assertive.'"
Watch the clip below via CNN:
[Photo via screen grab ]
— —
> >Follow Noah Rothman (@NoahCRothman) on Twitter
Have a tip we should know? tips@mediaite.com