Coincidence? Keith Olbermann Departs MSNBC Day After FCC Approves Comcast Takeover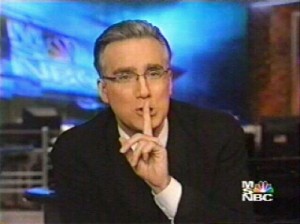 Shockwaves were felt through the cable news world late Friday night when word broke that Keith Olbermann and MSNBC would suddenly be parting ways. In some ways this news wasn't terribly surprising as the relationship between MSNBC and the Countdown host had soured in the last year or so. Its clear that Comcast had consulted with NBC about Olbermann and expressed concerns about the firebrand anchor.
To put things in proper perspective, its important to recognize that when Olbermann started at MSNBC eight years ago, the fledgling cable news channel was on relative life support. And while there are many at MSNBC who are also responsible in righting a then sinking ship (including Mediaite founder and former MSNBC GM Dan Abrams) Olbermann was arguably the most significant factor behind MSNBC's stunning turnaround.
Abrams told Mediaite "Keith Olbermann certainly deserves enormous credit for helping MSNBC overtake CNN in the ratings. While I am sure this was a difficult decision, with Rachel Maddow and Lawrence O'Donnell leading the prime time schedule, I predict that MSNBC will continue to thrive."
Olbermanns' relationship with MSNBC, however, had seriously begun to sour in the last year. In fact, just last fall Olbermann was notoriously suspended for breaking MSNBC's rules in donating funds to various political campaigns. The post-suspension news revealed that the specific relationship between Olbermann and MSNBC President Phil Griffin was particularly strained. Which leads us to tonight.
As many have already noted, the FCC finally approved the sale of the majority of NBC-Universal from GE to Comcast. Today was Jeff Zucker's last day at the helm, having sent a memo bidding adieu to his staff. Sources close to the situation have told Mediaite that there is no question that Comcast had expressed concerns about Olbermann. Hardly surprising since even last July Olbermann famously claimed via Twittter that Comcast wanted "MSNBC to go more liberal." The public flaunting of the future bosses could not have sat well with the new management, who seemed to have seen the red flags from the beginning.
The virtual war in which Olbermann was engaged with his bosses at MSNBC and NBC News could not have been something that Comcast wanted a part of. And while thus far there is no specific evidence that Comcast had a direct hand in this development there is almost no question that Comcast provided some sort of support to NBC to end Olbermann's contract, an action that Jeff Zucker might not have supported.
Have a tip we should know? tips@mediaite.com