Colin Powell: Tea Party Will Not 'Produce A Presidential Candidate Who Will Win'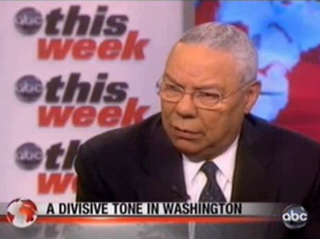 Former Secretary of State Colin Powell has no faith in the Tea Party's ability to produce a president. This he noted today in a discussion with Christiane Amanpour on This Week, where he lamented the "very tense" tone currently in Washington and attributed some of that to the obstinacy of the Tea Party.
RELATED: Colin Powell On Occupy Wall Street: 'Demonstrating Like This Is As American As Apple Pie'
"The tone is not good right now and the political system here in Washington… has become very, very tense," Powell told Amanpour, arguing that this was not exclusive a Congressional problem, but a media problem. "The media loves this game where everyone is on the extreme– it makes for great TV." The extremes, however, would not produce results, he argued. The media, he concluded, needed to "take some head out of political life in terms of the coverage, so that these folks can get to work."
As for the rejection of compromise, he completely disagreed. "The Founding Fathers compromised on slavery," he noted, "compromise is how this country was founded. The Tea Party point of view of no compromise whatsoever is not a point of view that will eventually produce a presidential candidate who will win."
RELATED: Colin Powell: Dick Cheney Taking 'Cheap Shots' In New Book
Powell is likely in the minority of Republicans who feel that the Tea Party is a liability and are vocal about it, and given his comments recently in support of Occupy Wall Street (in theory), this is likely not to go so well with the far right.
The segment via ABC below:

Have a tip we should know? tips@mediaite.com